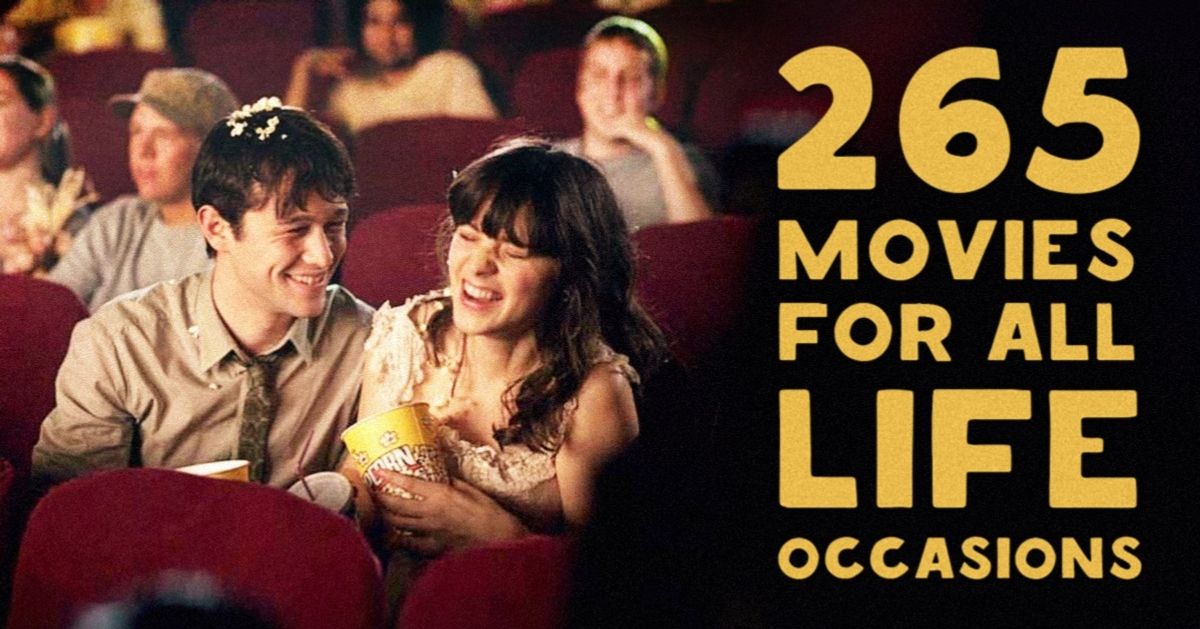 265 brilliant movies for all life occasions
If you're facing the ever-difficult choice of what movie to watch tonight, then you're in luck - here's a list of 265 films arranged into 22 randomly chosen categories. We here at Bright Side are certain that there's something here for everyone.
Happy viewing, and save these so you won't forget about them!
Movies which will profoundly affect your outlook on life:
The Butterfly Effect
The Bucket List
What Dreams May Come
The Pursuit of Happyness
Diary of a Nymphomaniac
Irréversible
Knockin' on Heaven's Door
A Beautiful Mind
Pride & Prejudice
The Green Mile
Seven Pounds
The Devil's Advocate
Limitless
Scent of a Woman
Yes Man
Schindler's List
The Dreamers
Forrest Gump
Revolver
Fight Club
Cinderella Man
Mr. Nobody
Movies that will motivate you:
Gladiator
Never Back Down
Fight Club
The Devil Wears Prada
Slumdog Millionaire
World Trade Center
The Secret
Peaceful Warrior
Dirty Dancing
Rocky
October Sky
Yamakasi
Knockin' on Heaven's Door
The Shawshank Redemption
Braveheart
The Social Network
What dream may come
The Bucket List
Yes Man
8 Mile
Mission to Mars
Collateral
Die Hard
Cinderella Man
The Next Three Days
The Curious Case of Benjamin Button
Boiler Room
Step Up
1+1
Django Unchained
Life of Pi
Inside I'm Dancing
Stunning movies that will make you cry:
Artificial Intelligence: AI
Hachi: A Dog's Tale
The Green Mile
Titanic
A Walk to Remember
The Boy in the Striped Pyjamas
Pay It Forward
Knockin' on Heaven's Door
Bridge to Terabithia
The best movies according to Quentin Tarantino:
Battle Royale
Anything Else
Audition
The Blade
Boogie Nights
Dazed and Confused
Dogville
Fight Club
Friday
The Insider
Top four banned and highly controversial movies:
House (banned in 36 countries)
Kursk (banned in Russia)
Loose Change (banned in the U.S.A)
Leonardo DaVinci: The Man Who Wanted to Know Everything
Some of the most thought-provoking movies about adultery:
Match Point
Unfaithful
Closer
Stricken
Derailed
Last Night
What Lies Beneath
Stand Clear of the Closing Doors
The Hidden Face
The Edge
A selection of movies about madness:
Charlie and the Chocolate Factory
Willy Wonka & the Chocolate Factory
Black Swan
One Flew Over the Cuckoo's Nest
Shutter Island
A Beautiful Mind
Angels of the Universe
I Spit on Your Grave
Body-swap comedies:
It's a Boy Girl Thing
Me Two
Changeling
Freaky Friday
The Change-Up
Dating the Enemy
The Hot Chick
13 going on 30
A selection of the best movies for manly men:
Lock, Stock and Two Smoking Barrels
Reservoir Dogs
Point Break
Fight Club
Act of Valor
3:10 to Yuma
22 Bullets
A selection of movies for teenagers:
Wild Child
Another Cinderella Story
A Walk to Remember
LOL
Mean Girls
Step Up
Twilight
Hachi: A Dog's Tale
High School Musical
A unique selection of movies with Jim Carrey:
Mr. Popper's Penguins
A Christmas Carol
Yes Man
The Number 23
Fun with Dick and Jane
Lemony Snicket's A Series of Unfortunate Events
Eternal Sunshine of the Spotless Mind
Bruce Almighty
The Majestic
How the Grinch Stole Christmas
Me, Myself & Irene
The Truman Show
Liar Liar
The Cable Guy
Batman Forever
Dumb & Dumber
The Mask
Ace Ventura: Pet Detective
I Love You Phillip Morris
Man on the Moon
A selection of the best movies with Johnny Depp:
Dark Shadows
The Notebook
The Tourist
Alice in Wonderland
Public Enemies
The Imaginarium of Doctor Parnassus
Charlie and the Chocolate Factory
The Libertine
Finding Neverland
Secret Window
From Hell
Blow
Chocolat
Sleepy Hollow
The Ninth Gate
Fear and Loathing in Las Vegas
Donnie Brasco
Dead Man
Ed Wood
Edward Scissorhands
A selection of movies with Leonardo DiCaprio:
Inception
Shutter Island
Body of Lies
Revolutionary Road
Blood Diamond
The Departed
The Aviator
Gangs of New York
Catch Me If You Can
Nine great mystery movies:
The Others
Sleepy Hollow
The Sixth Sence
The Skeleton Key
Gothika
Constantine
1408
The Omen
Ninth Gate
Five amazing adventure films:
Cast Away
Alive
127 Hours
Battle Royale
Six Days, Seven Nights
The best disaster movies:
Skyline
I Am Legend
Flood
The Day After Tomorrow
The Happening
2012
Knowing
World Trade Center
The Day the Earth Stood Still
The best movies with Monica Bellucci:
Shoot 'Em Up
The Matrix Reloaded
Wild Blood
Second Breath
The Man Who Loves
The Whistleblower
The Ages of Love
Don't Look Back
Dracula
Tears of the Sun
Ten of the best movies about loneliness:
Cast Away
Mulholland Dr.
Lost in Translation
Broken Flowers
Leaving Las Vegas
About Schmidt
Wings of Desire
Spider
Chungking Express
Taxi Driver
Horror movies based on true stories:
The Girl Next Door
Wolf Creek
Zodiac
The Texas Chainsaw Massacre
The Exorcism of Emily Rose
The Strangers
The Haunting in Connecticut
An American Haunting
The Amityville Horror
Them
The Devil Inside
Evilenko
Manhunter
Rohtenburg
The Boston Strangler
Badlands
The Alphabet Killer
Citizen X
Bone Daddy
Gacy
Gone
Memories of Murder
Borderland
Frailty
American Crime
The most thrilling horror movies in the history of cinema:
Psychosis
Don't Look Now
The Wicker Man
The Shining
The Exorcist
Nosferatu
Vampire
Vampires
Peeping Tom
Dark Summer
A selection of the best historical films:
Gladiator
Alexander
Braveheart
Troy
King Arthur
Robin Hood
Joan of Arc
Kingdom of Heaven
The Last Samurai
A selection of the best science-fiction movies:
Blade Runner
2001: A Space Odyssey
Star Wars: Episode IV - A New Hope
Alien
Metropolis
The Day the Earth Stood Still
Planet of the Apes
E.T. the Extra-Terrestrial
Solaris
Close Encounters of the Third Kind