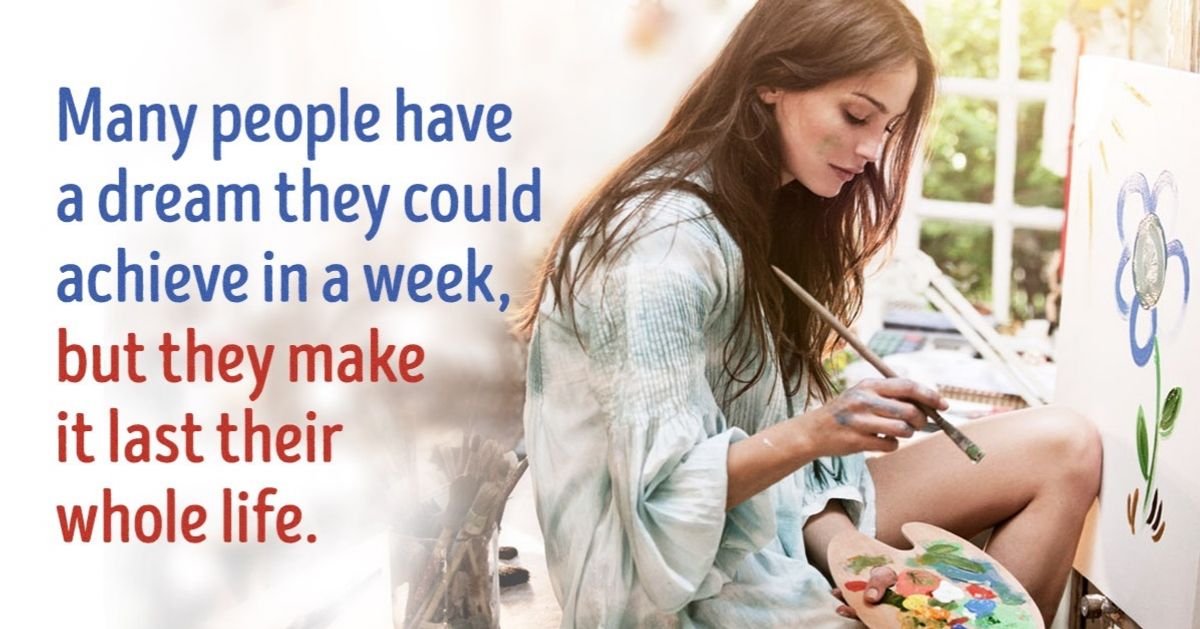 How to achieve creative renewal in just 12 weeks
One of the most important human needs is the need to feel support from others. Unfortunately, many truly creative people don't get the support when they really need it. Because of this, they don't realize what talent lies within them. From time to time, moreover, everyone suffers from a 'blockage' through which there creativity can't pass. It's for these reasons that many people pass over their dreams of a more creative and fulfilling life. Julia Cameron, the famous consultant who has helped people comprehend their creative potential, has arguably changed the lives of millions of people. In her book ''The Artist's Way'' she sets out a 12-week course of practical exercises. The idea is that through these tasks, we can liberate our soul and release the creative energy that's in every one of us, step-by-step.
It doesn't matter how old you are or what you do - you could reinvigorate your life if you follow these steps.
Week 1. Recovering a Sense of Safety
It's important to be able to listen to that internal voice and hear the real desire of your soul to fulfil its potential. These following tasks will help to reach this goal.
Morning pages. Get up 30 minutes early every day and fill up three blank pages with random words based on your the stream of consciousness you hear first thing in the morning. At the start of the day, your mind is at its clearest and your ideas are fresh and interesting.
The artist's date. Once a week go for a walk alone. Do what you have always wanted to do but which you never managed to find the time for.
Imaginary lives. Write a list of five alternate lives you would like to live. Try to think about the aspects of these lives which you would like to adopt into your real one.
Week 2: Recovering a Sense of Identity
Don't be afraid to be yourself and show your true character. Gradually start to do new things that you have always wanted to do.
Make a list of 20 things you love to do (drawing, riding a bike, playing the guitar, jogging etc.). This list is a great source for your 'artist's dates'.
Choose two activities from this list which you avoided doing for a long time, but which you could easily do this week. Find time for yourself and devote it to doing pleasant things.
Ten tiny changes. List ten changes you'd like to make in your life. Select one thing which you will make your goal to achieve.
Week 3: Recovering a Sense of Power
Everyone has his or her own internal power. But it's quit hard to feel it while you're stuck with creative block. And yet this power is really important for your creative development.
Our habits. Some of these stop us from taking care of ourselves and even force us to be ashamed of our behaviour. They can also be harmful to our personality. List three of them, and imagine what will happen if you abandoned these habits for good.
Inner compass. This is an instinct that warns us when we're in danger or when something that we're doing is good for us. Such activities as drawing, walking, cleaning and running help to develop your inner compass. So choose one activity for this week.
List five people you admire. Then list five people you secretly admire. What traits of these people would you like to adopt?
Week 4: Recovering A Sense of Integrity
It's very important to know how to distinguish your real feelings from feigned ones, as well as comprehend your deepest desires.
Abstention from reading for a week. It's not easy, but it's worth it. Because you're constantly absorbing someone else's thoughts, you avoid hearing your own ones. Abstaining from reading will help you to enjoy your inner, healing silence, which will reward you with a stream of fresh ideas and thoughts.
Time travel. Describe yourself at the age of 80. What did you do after you turned 50 that you enjoyed? Now write a letter from yourself at 80 to yourself now. What would you tell yourself? What interests would you advise yourself to pursue? What dreams would you encourage?
Open your wardrobe. Get rid of the clothes that cause you low self-esteem. Make space for new outfits that you really like.
Week 5: Recovering a Sense of Possibility
We impoverish ourselves by pretending that we are fine instead of taking radical steps to improve and remaining faithful to who we are.
The box of dreams. Choose five your most treasured wishes and collect everything related to them in a special box during the week.
If I were twenty and had a lot of money I would… List five adventures you've always dreamed of embarking on and add images connected with them into the box.
If I were 65 and had a lot of money I would… List your five favourite things that were postponed for later and add them into the box too.
10 items I would like to own. Find images of these things and put them into the box.
Week 6: Recovering A Sense of Abundance
When we start doing things we really enjoy, financial questions don't concern us anymore; all the doors are open, we feel useful and our job seems like a fun game.
Reorganize your wardrobe. Throw out 5 shabby items of clothing.
Acceptance. Do you feel that there's a positive flow of events and feelings in your life? Practice saying ''yes'' to new opportunities.
Environment. Have changes taken place in your home? Try to bring something new to your home environment.
Communication. Send postcards to five friends. But don't do it just to show how good you are. Send them to people who you would really like to get a response from.
Week 7: Recovering A Sense of Connection
Just try to allow for the possibility of the Universe helping you to do what you want to do. Then it will become easier for you to accept new ideas, and new paths towards inspiration will open.
''I become stronger when I treasure myself.'' Let this phrase be your mantra and repeat it every day.
Take yourself into a sacred place - a church, library, a forest. Let yourself enjoy the peace and quiet and healing sense of solitude. Each of us has a personal idea of what a sacred place is.
Collage. Collect a stack of old magazines and flick through them to cut out any images that relate to your life or interests. Think of this collage as a pictorial autobiography. Include your past, present, future, and your dearest wishes. Then glue all these images onto a piece of paper in the way you want.
Week 8: Recovering A Sense of Strength
It's time to find out what practical changes you could bring into your life. Get rid of the negative judgements that force you to to settle for less than you want.
Ideal day. Describe the most ideal day you could ever dream of living. There are no limits here. Let yourself be who you want to be and to have everything you desire.
Choose one aspect from your ideal day. Dare to realize it. Maybe you don't have an opportunity to move to Rome right now, but you can indulge yourself with a well-made coffee and a bagel today.
Describe your dream and define its real purpose (respect, love, spiritual harmony). Make an action plan. For five years, three years, one year, one month, this week, right now. Choose when you will begin. The challenge of taking on these tasks is already a beginning.
Week 9: Recovering a Sense of Compassion
Do not assume that your inability to start something is a sign of laziness. Call it what it is - fear. It's time to get rid of the emotional obstacles on your creative path and dare to risk.
Priorities. List your creative goals for the following year, month and week.
Read your morning pages. It's better to do this with two coloured markers, in order to highlight insights and words of wisdom with one marker, and actions that need to be taken with another one. Consider these pages to be your map.
Think about how any unfinished or spoiled work can be rescued.
Week 10: Recovering a Sense of Self Protection
Quite often, our own behaviour blocks our creativity and becomes an obstacle in its way. It's time to learn how to find time for the really important things.
Set a limit. In other words, just say ''no'' to the things that prevent you from doing something important. For example, no work after 6pm.
List your five victories.
List three examples of what you would do for your inner artist (in other words, your inner child).
Do one lovely thing for yourself every day this week.
Week 11: Recovering a Sense of Autonomy.
There is a connection between taking care of yourself and self-respect. Killing your dreams just because they are not the responsible thing you think you should do will end up making you treat yourself irresponsibly. It's time to stop trying to be someone else but you.
Make a plan containing five different ways in which you will take care of yourself in the next six months: what courses you'll take, what things you'll get, how you'll organize artists dates and holidays.
Write an encouraging letter to your inner artist. This sounds silly, but it feels great when you receive it!
Buy a special creative notebook. Pick a page for each of the following categories: health, money, leisure, relationships, creativity, career, and spirituality. List ten of your dearest wishes from each category without thinking about whether they're practical or not.
Week 12: Recovering a Sense of Faith
Everyone has a dream which they can turn into reality if they just have the courage to admit what that dream is. Creativity requires sensitivity and trust. This means that sometimes you have to let go of your control over the situation.
Get a box. This is where you will place all of your fears, resentments, hopes, dreams, and worries. Use this box. When you worry, just remind yourself that all your worries are already in the box. Keep moving on.
List five people who you can talk to about your dreams and with whom you are ready to dream - and then plan.
Think: where you are going? What would you most like to create? What unusual steps are you ready to take? What external attributes will you give up in order to follow your dream?
Be open to others. Creative people often help each other. It's always been like this. But the truth is that when we help each other, really amazing things happen.