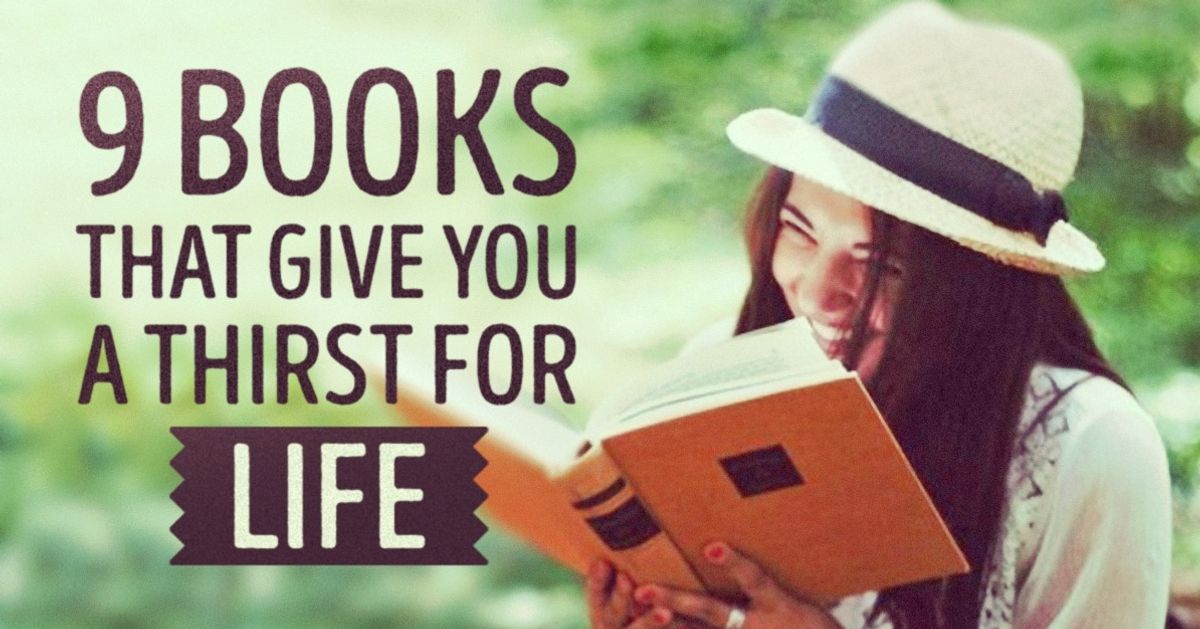 9 inspiring books that give you a real thirst for life
When January is smoothly transforming into February, it seems that winter is eternal and gloomy. There is only one thing we all want: to go into hibernation and stay asleep until summer finally comes. But there are ways to liven up! For instance, you could read a good and thoughtful book.
Bright Side knows at least 9 such stories that will help you really wake up.
My Family and Other Animals
Gerald Durrell
This is the first book in a much-celebrated trilogy by naturalist Gerald Durrell. The story is about the writer's childhood spent on the Greek island Corfu. Durrell affectionately and wittily shares his memories of amazing animals and their curious habits with the reader. My Family and Other Animals encourages readers to appreciate the world around them in all its beauty.
You Changed My Life
Abdel Sellou
This is a true story that lays at the heart of the French movie The Intouchables. A tale of an inspirational friendship between two people whose roads were never meant to cross — a paralyzed French aristocrat and an unemployed Algerian immigrant. But they have met, and it changed their lives.
Pollyanna
Eleanor Porter
Is it easy to see only the bright side in life? We don't think it is. Just look at us, being adults and having to deal with all our problems. There is never too much good in our lives. But what if we could make a life principle out of a 'Glad Game,' a technique that would help us to always stay positive? Maybe it can make us see the world differently. This original principle turns Pollyanna's story into a real anti-depressant.
Sailor Song
Ken Kesey
Ken Kesey took a long time to sing this song. Years and years of writer's silence paved the way for this story about Alaska: harsh land, simple men, and the sea. In this song, you will hear fierce sarcasm and bitter humor (that seems to drag you down) only to lift you back to the light and enhance your sincere love for life.
Frost and Fire
Ray Bradbury
Extreme weather conditions cause people to age abnormally fast. They now have only 8 days to grow up and get old. These days should be used to learn, get married, and procreate. Through all of that, people manage to fight, be jealous, and envy — as if they have decades ahead. This short story teaches the reader that even during a small period of time, one can manage to do a lot... or you could give up and not take any chances.
Yes Man
Danny Wallace
Danny Wallace always said no. He refused to help his friends and colleagues, refused to go out at night, and refused everything for himself. His life was tedious. Danny's girlfriend broke up with him, and he was left standing on a road that leads nowhere. His life started to change after he met a mysterious man on the bus, who said three magic words...
Standing in the Rainbow
Fannie Flagg
Imagine that you find yourself in a little town and suddenly realize that you know every man in there better than anyone else ever could. You are observing their common everyday life, and it makes your heart warm. They say it's hard, naïve, and short-sighted to see only good things. But Fannie Flagg is one of those people who can prove that life is much better than people make it seem.
The Code of the Woosters
P.G. Wodehouse
Anyone who enjoys easy and light reading would find books by P.G. Wodehouse a source of everlasting amusement. Stories of Jeeves, Wooster, and all of the razzle-dazzle around them are written with a sparkling sense of humor. These novels are capable of lifting your spirits up from zero to infinity.
Nation
Terry Pratchett
Even if you are already familiar with sir Terence Pratchett and his cheerful universes, this book still will be able to surprise you. Nation is truly serious and thorough, even though it's written mostly for a teenage audience. This blistering story of growing up tells us that we all should have something to believe in.