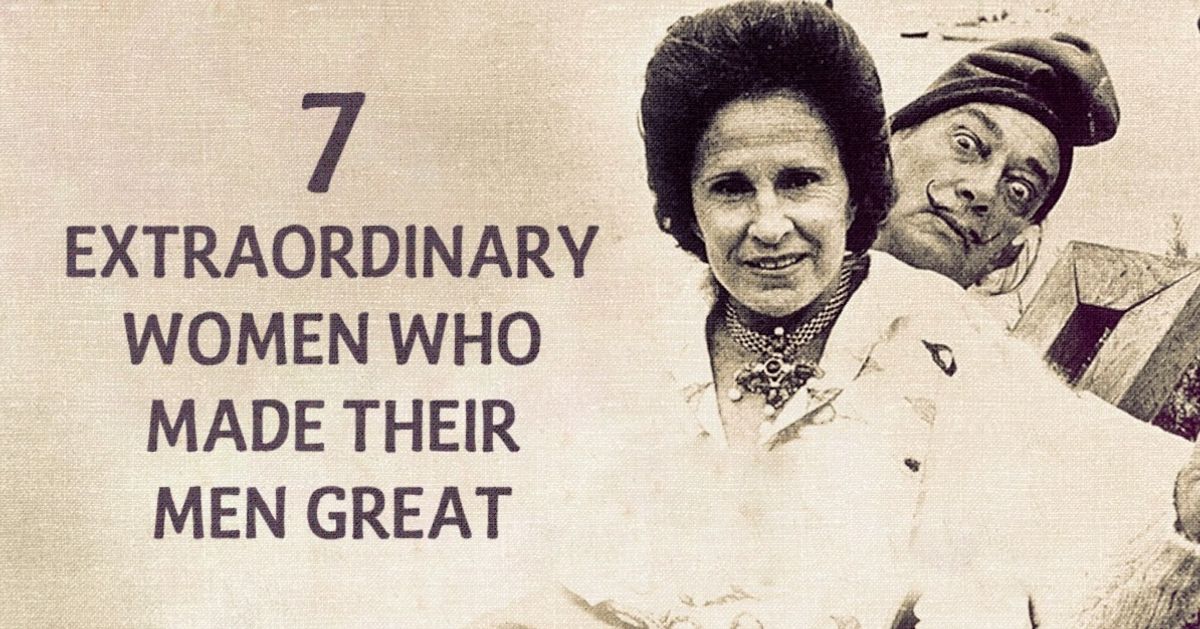 Seven truly extraordinary women who made their men great
They say that behind every great man, there is a great woman. Who knows what the destiny of the greatest musicians, artists, filmmakers, and writers would be like if it wasn't for their wise, patient, deeply caring, and loving wives.
Celebrating Valentine's Day, we here at Bright Side want to pay tribute to the great women who devoted themselves to their extremely talented and extraordinary husbands. It's time we acknowledged these rare women who were always there for their loved ones.
Mercedes Barcha Pardo
Gabriel Garcia Marquez met his future wife on the dance floor when she was only 13. Despite her age, he immediately proposed to her. Although she said yes, she still had to graduate from school first. They got married 13 years later.
Mercedes was always there for her beloved Gabi. When he was working on his famous novel 'One Hundred Years of Solitude,' their family was broke. She was the breadwinner of the family, and supported her husband and encouraged him to keep writing. 18 months later, the novel was done, but Marquez had no money to send the copy to the editor. To support her husband, Mercedes sold her hair dryer and a food processor. Soon after, Marquez won worldwide recognition and a Nobel Prize for his work.
Yoko Ono
Beatles fans often blame Yoko for the legendary band's break-up, but the difficulties in collaboration had become very obvious long before John Lennon met his Yoko.
It was Yoko who introduced a young Lennon to the magical and unknown world of creativity: avant-garde painting, literature, and extravagant performances. Thanks to Yoko, John Lennon launched his solo album, and the title song 'Imagine' became an international anthem for hippies. John Lennon once said that only with her he was truly happy, and that Yoko and he had one soul for two people.
Giulietta Masina
The marriage of Federico Fellini and Giulietta Masina lasted for 50 years and 1 day. The great director and brilliant actress were very different: he preferred to run wild and loved women; she, on the contrary, was always faithful and loyal to him. But even difficulties like these didn't prevent them from being happy together. They belonged to each other, and couldn't spend more than a month apart.
When Giulietta wasn't on set with Fellini, he went into hysterics and called to ask her for advice on every single detail. She edited scripts and held auditions. Although she was a great actress in her husband's 'La Strada' and 'Nights of Cabiria,' she chose to sacrifice her professional career and to devote herself to her brilliant husband.
Sophia Tolstoy
One of the greatest Russian novelists, Leo Tolstoy, spent almost half a century with his muse and wife Sophia. She was his multifunctional 'guardian angel.' She was his personal assistant, manager, nurse, and publisher. She acted as a copyist to the epic 'War and Peace' and edited the manuscript seven times from beginning to end. When a huge army of fans crowded in front of their house to meet the legendary novelist, she would protect him. After her husband's death in 1910, she became the keeper of his creative heritage. She courageously stood by her husband through all of his extravagant oddities, even after he was gone.
Oona O'Neill
''He has made me mature and I keep him young,'' said Oona O'Neill about Charlie Chaplin. O'Neill was introduced to Chaplin, who considered her for a film role, when she was only 17. He was already a famous 54-year-old comedian. The 37-year age gap severed her relationship between her and her father, American playwright Eugene O'Neill.
She and Chaplin were married for 34 years and had eight children together - 5 daughters and 3 sons, and remained married until his death in 1977. Following their marriage, O'Neill gave up her career ambitions and became a happy wife and loving mother. She was the only muse in the life of this brilliant actor.
Clementine Churchill
Around his beloved Clementine, the British prime minister, officer in the British Army, uncompromising politician, and famous statesman of England Sir Winston Churchill suddenly turned into a gentle and naïve adolescent. She was his loyal friend and ally.
Clementine was a strong and confident woman, who refused to live in the shadow of her great husband. Instead, the couple came up with their own formula of love. They communicated with each other through letters and postcards, in which they called each other pet names. He was her 'pug' and later 'pig,' and she was his 'cat.' It seems that Clementine succeeded in solving the secret of how to keep a committed romance alive, even after 57 years of marriage.
Gala
The now-legendary Gala used to be named Elena Diakonov, an ordinary Russian name. They say it was Gala who first noticed the real genius in the Spanish artist Salvador Dali. When they first met, Dali suffered from anxiety, burdened by his demons. Lack of recognition also pushed him towards deep depression. Gala became his first woman, muse, model, mother, personal assistant, and manager. She took care of his career too; she organized the exhibitions and found new clients.
With her by his side, Salvador Dali was gradually healed, and found new thirst for life. From now on, every masterpiece he created was signed 'Gala-Salvador Dali'. He always said that he became a real artist thanks to his Gala.
''I love Gala more than my mother, more than my father, more than Picasso, and even more than money. Thank you, Gala!'' Salvador Dali