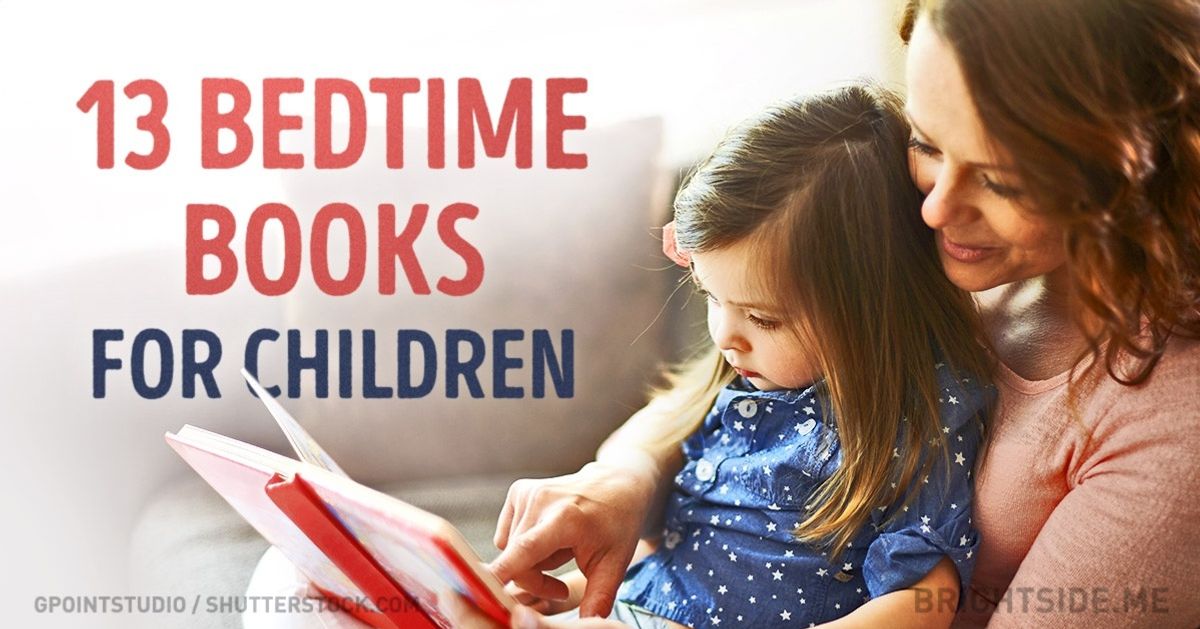 13 amazing bedtime books for children
Bedtime reading is probably one of the happiest moments between parents and a child. It's an opportunity to take a step together into the exciting world of miracles and magic and also a way to develop a taste for literature in early childhood.
We at Bright Side would like to introduce you to 13 time-honored books that will definitely be loved by your children. These books will also allow parents to return to their childhood for a while!
The Moomins series
Tove Jansson
The collection of stories about the Moomins is one you can take with you through your entire life. The earlier your child meets this fantastic, wise, and cozy world, the easier it will be to keep coming back to it later. Your kid will grow up with 'The Moomins,' who never seem to be too foolish or too naive.
Winnie-The-Pooh
Alan Alexander Milne
Alan Alexander Milne wrote a story about a teddy bear for his son Christopher Robin, and he couldn't have imagined that one day the book would be famous all over the world. Even though it's about 100 years old, this story will never get old! Most children and adults still absolutely love it.
Peter Pan
J.M. Barrie
This book has one truly amazing feature; you will really enjoy reading this story with your child, but both of you will see absolutely different things. Your child will be happy to hear this wonderful story about incredible adventures. And for adults, too, it will be a real eye-opener. How did it happen that we forgot how to fly? And is it possible to feel as free as you're a child again?
Pippi Longstocking
Astrid Lindgren
All people from 6 to 86 years old will love this book! It's full of real, invincible mischief that will make you get lost in admiration. It's a perfect mixture of optimism and joy, and it will certainly give you and your child a lot of happy evenings.
Fairy Tales
Hans Christian Andersen
It's hard to imagine a childhood without children's classics like 'Thumbelina,' 'The Ugly Duckling,' 'Snow Queen,' and other amazing fairy tales by this Dutch writer. It's a special world where miracles and reality are so simple and naturally intertwined that it's almost impossible to see the boundaries. Not without reason, love for Andersen's fairy tales passes down through the ages.
Uncle Remus: His Songs and His Sayings
Joel Harris
Children will love stories about the adventures of crafty Br'er Rabbit, poor Br'er Fox and quick-witted Br'er Terrapin. Parents will definitely like the incredibly wise uncle Remus, from whom they can learn kindness and patience.
The Jungle Book
Rudyard Kipling
It's a completely different fairy tale about exotic coasts and animals you haven't even heard of, and about the wild jungle and its inhabitants. The stories will take you and your child far away to wonderful green places where wolves can become your friends and wild cats just walk around by themselves.
Fairy Tales Over the Phone
Gianni Rodari
These stories by an Italian writer are quite simple, but they have a very unique and magical impact on kids. Tales about brats and fidgets and their adventures help develop imaginations and are perfect for bedtime stories.
The Arabian Nights: Tales from a Thousand and One Nights
Richard Francis Burton, Geraldine McCaughrean
This is a collection of Middle Eastern and South Asian stories, including famous ones like 'Aladdin,' 'Ali Baba,' and 'Sindbad the Sailor.' This book will introduce the wonderful Eastern world to children and make them fall in love with the unique Arab culture at an early age.
Mary Poppins
Pamela Lyndon Travers
This is another story kids will definitely fall in love with at an early age, and they will be able to reread it many times in the future. Later the book will become a priceless reminder that it's only us who create our own reality; that we can fill our lives with miracles or not, depending on our choices.
Fairy Tales
Charles Perrault
These are the good old-fashioned classics that we all love. 'Cinderella,' 'Little Red Riding Hood,' 'Puss in Boots' and many other amazing stories we adored as children will also be a cup of tea for your kids. After all, real magic doesn't get old — it only becomes more powerful.
A Bear Called Paddington
Michael Bond
This story started at Paddington Station in London. A little bear arrived from 'Darkest Peru' and was patiently waiting for someone to take him home. Luckily, he was found by one lovely family who adopted him. This book is really adorable, and cute Paddington will become a great friend for your family.