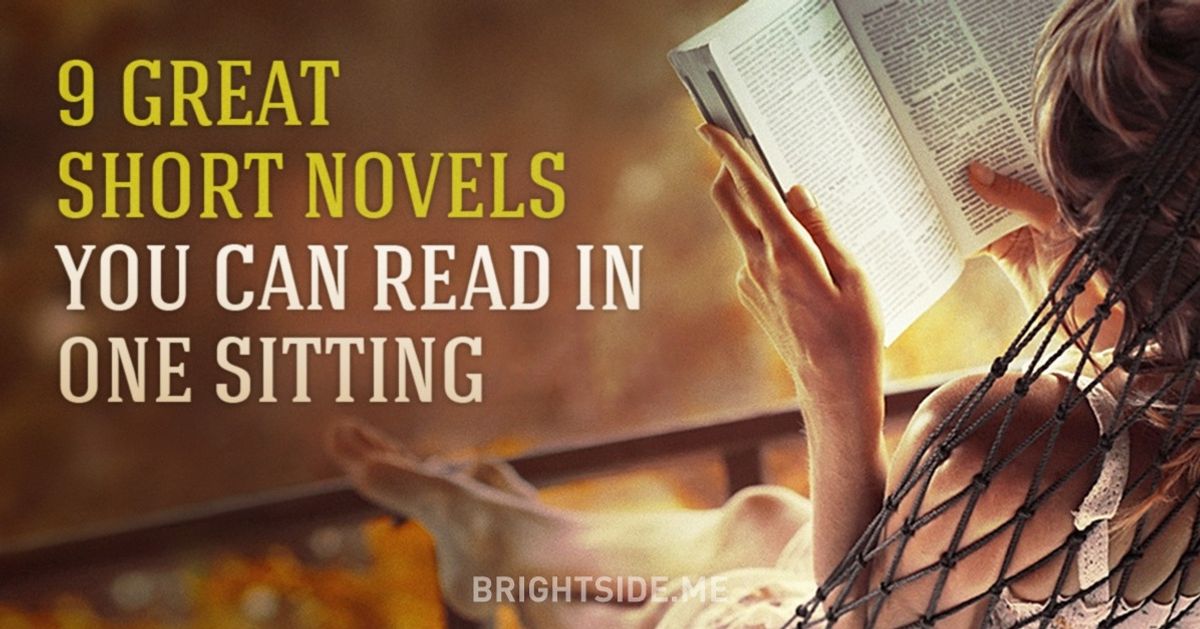 9 great short novels you can read in one sitting
There are books that you find just impossible to put down until you turned to the very last page. You find yourself liking literally everything about this kind of novel: the style of narration, the sophisticated characters, and of course, the story itself. It's no easy task to come up with a great plot that will grab the reader right away, but to go even further and succeed in depicting an entire life in a relatively short story is surely a whole other level of artistic ability.
Here is our list of ten short novels that grabbed us from the first page. We just couldn't put these ones down until we'd finished all of them!
Which one's your favorite?
By Night in Chile
Roberto Bolaño
This is a story about a Chilean priest who, being on his deathbed, confesses many cruelties associated with the dictatorship of the 70s in Chile. One of his friends, a woman who held great parties in her house for the literary elites of Chile, had a secret chamber in her basement where they tortured people to death.
Bonjour Tristesse
Françoise Sagan
This is a fresh and touching novel about a young woman who spends her summer with her widowed father and his mistress. The story is full of firsts: her first love, her first discovery and adventure, and inevitably, her very first disappointment. Despite all the jealousy, rivalry and unbearable pain, the main characters just keep on fighting for love.
Silk
Alessandro Baricco
The novel tells the story of a young French merchant who leaves his wife and travels to Japan in the 1860s to support his business. The country is still almost entirely closed to foreigners and is experiencing rising anti-Western sentiments. However, there is always a place and time for love. He falls in love with a local baron's geisha, who happens to be a European woman. The narration is smooth, soft and beautiful, like a piece of the finest silk.
The Pigeon
Patrick Süskind
'The Pigeon' is about a bank security guard living his unhappy life, and who consequently experiences an existential crisis. One day, a pigeon sits on his doorstep as he tries to go to the bathroom. This pretty insignificant event ends up turning his whole life upside down. The pigeon is a symbol of change in his well-organized existence = a change that he has been postponed for more than 40 years.
All Summer in a Day
Ray Bradbury
This short story follows a group of 9-year-old schoolchildren on Venus. Their parents came to Venus many years ago, colonising a planet racked by constant storms, where the Sun can be seen for only one hour in seven long years. Margot, a girl who came to Venus five years ago, is the only one who can still remember oh-so-vividly the shining Sun and the warmth it brings.
The Notebook
Nicholas Sparks
This is not just another girly novel about love. It's truly a great romantic novel — that is, moreover, based on a true story. Noah and Allie fell in love with each other at first sight but were forced to part ways because of some unfortunate events. Many years later, they will meet again, but will they get back together and revive their feelings? You can be sure that true love has no limits and will melt even the coldest heart.
We Have Always Lived in the Castle
Shirley Jackson
This gothic novel tells a story about two sisters living in an old family house. The Blackwood girls are the last surviving members of the family, and now they live with their uncle, trying to protect themselves from the curiosity and hostility of the villagers.
Mrs. Warren's Profession
George Bernard Shaw
Mrs. Warren, an attractive woman and former prostitute, made her fortune by running several brothels in Belgium, Vienna and Budapest. Thanks to her mother's profession, her daughter can afford to study in the most prestigious schools without ever wondering where all the money comes from. But then one day, everything that was hidden becomes clear...
A Series of Unfortunate Events
Lemony Snicket
It all started on a gray, rainy day when the Baudelaire kids — Violet, Klaus, and Sonny — lost their parents in a fire. After their parents' death the children were placed in the custody of their relative, Count Olaf, who makes no attempt to become a loving and caring parent for them. Instead, he tries to steal their inheritance.