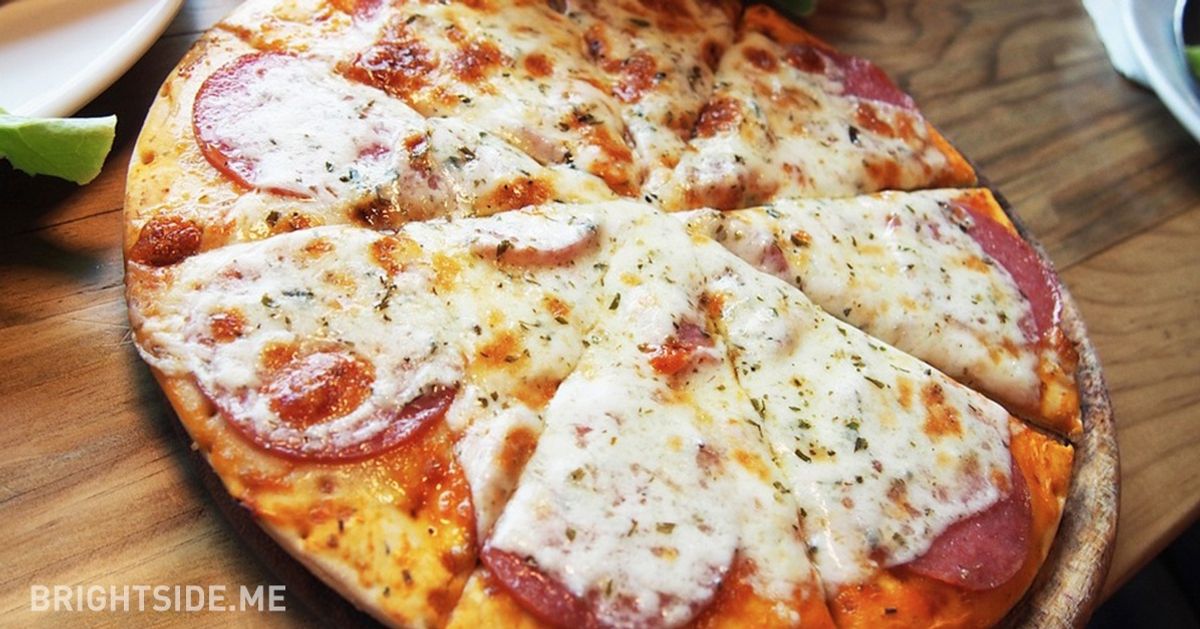 3 quick and easy pizza recipes
There are thousands of kinds of pizza, and it's always a nourishing and appetizing dish —that's why we love it so much! Sometimes we crave a slice of pizza, but we have no time to cook it. Fortunately, Bright Side has found some super-quick pizza recipes for you. Try making these mouth-watering pizzas right now!
One minute pizza in a skillet
9 tablespoons of flour
4 tablespoons of sour cream (you can use buttermilk or kefir instead)
2 eggs
A dash of baking soda
1/2 teaspoon of vinegar
Cheese
Any topping you like 
The best pizza toppings are odds and ends in your fridge: chicken, vegetables, sausage, etc. 
Combine the sour cream, flour and eggs in a bowl. Soak the soda in 1/2 teaspoon of vinegar and add to the batter. Mix everything well. 
Pour the batter in a skillet greased with oil. 
Cut the meat or vegetables you've prepared for the toppings. Spread the toppings over the batter and sprinkle with grated cheese.  Cover the skillet and bake for 15 minutes. 
Pizza with yeast dough
300 ml of milk
2 tablespoons of seed oil
2 tablespoons of sour cream
1 package active dry yeast
Flour
Salt
Cheese
Tomato sauce
Any topping you like
Put the yeast in a bowl, then add salt and warm milk. Mix everything well. Let it stand in a warm place for 15 minutes, until the yeast is foamy and dissolved. Then add a little bit of flour to make a batter.
Add the oil and sour cream, then mix thoroughly and add flour to get a thick dough.
Let it stand for 15 minutes, then cut off a piece of the dough and roll it into a circle. Place it in a pan greased with oil and spread some tomato sauce over it. Then add toppings and cheese.  
Bake for 20 to 30 minutes at a high temperature until it's done. 
Italian pizza
Ingredients: 
2 1/2 cups of flour
1 glass of warm water
2 tablespoons of olive oil
2 teaspoons of active dry yeast
1 teaspoon of salt
250 g of chopped tomatoes
150 g of Mozzarella cheese
2 cloves of garlic
1 tuft of basil
1 tablespoon of olive oil
1 teaspoon of oregano, if desired
Black pepper
Salt
Sift the flour into a bowl; add the oil, salt and yeast in the middle of the pile of flour. Now add water carefully, pouring it in the middle and stirring the flour from the edges to the middle. Knead the dough by hand for 10 minutes until it gets smooth and elastic. 
Cover the dough and let it rest in a warm place for 20 minutes. You can also place it in a bowl and put the bowl into a pan of hot water. 
While the dough is rising, chop the garlic and fry it in oil. Add the tomatoes, sprinkle with salt, pepper and oregano, and stew them for 15 minutes. 
Divide the dough into two. Carefully flatten each piece of dough on a lightly floured surface and roll them into 0.5 cm-high circles. 
Spread the tomato sauce over both pizzas and top with the slices of Mozzarella and basil. 
Bake the pizzas for 10 minutes at 220 ºC until the cheese melts.