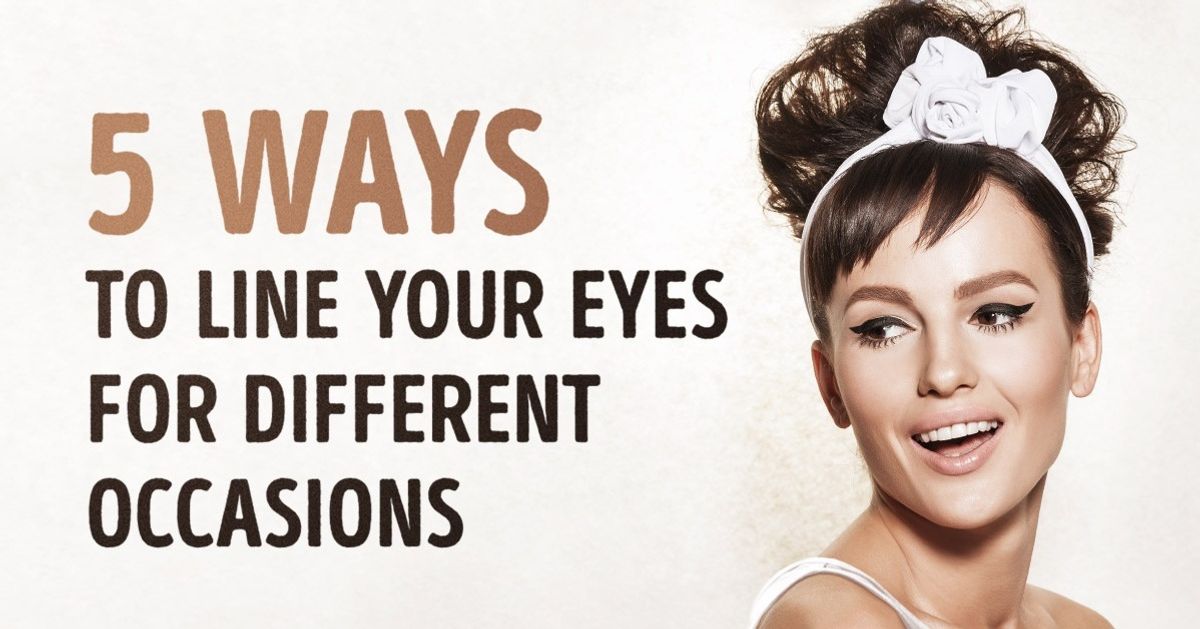 Five ways to line your eyes for different occasions
Makeup is an art that requires practice and patience. Skillfully applied, it can completely change your look and highlight your best features.
Besides being the mirror of the soul, your eyes are the most expressive feature of your face, and eye makeup can be the most important part of your overall makeup. We at Bright Side want to show you how to create five different eyeliner looks to accentuate, reshape, and add extra beauty to your eyes.
Pin-up winged eyeliner
A simple retro-style look is one of the most versatile and easy to create, so it's probably going to become one of your favorites. You can use it for almost any occasion, although we recommend adding mascara and eye shadow for an evening makeup.
To achieve the perfect winged eye look, make a line just above your lashes all the way to the outer corner. Then draw a short upward tip that should almost look like an extension of your lower lash line. Draw a straight line from the tip to the middle of your eyelid, and fill in the outline with solid black color. You can make the line thicker if you wish.
Cat's eye
This fierce makeup certainly won't let you go unnoticed! To create a cat's eye look, first put on some eye shadow that matches your skin tone. You can also use silver and gold shades.
Line your upper eyelid with black eyeliner (or a simple black eye pencil) from the outer corner towards the end of your eyebrow. Line your top lashes, connect to the line you just made, and color in the triangle. Finish off this look with two to three coats of black mascara.
Fully covered lid
This style is a more dramatic version of a cat's eye. To achieve this very deep and mysterious look follow the steps outlined earlier, but note that the angle of the flick should be less upward. You don't need to apply eye shadow here, but you can add two coats of ultra black mascara.
We do not recommend this style if you have very small eyes. Instead of highlighting your natural beauty, it will make your eyes look dull and dark. We suggest you try the Cleopatra eyeliner style instead.
Fine line
Remember that less is more when it comes to beauty. For a casual, fresh, and natural look, draw a fine line along your upper lashes. Slightly widen the line on the outside of your eye, and you're ready to go! If you have close-set eyes, line only the outer half of your eyelid. You can also curl your lashes and add a coat of mascara.
The Cleopatra eyeliner style
This eyeliner style will give you a sophisticated look and make your eyes look bigger and brighter. If you have an appointment, a romantic dinner, or a reunion with someone you haven't seen for years, this style is just what you need.
Apply darker eye shadow on the outer part of your eye. Line your upper lash line with black eyeliner. Then start to line your bottom lashes from the middle only, and extend the line from the outer corners upwards as if you're doing the cat's eye. Brighten up the inner corners of your eyes with white, beige, or silver eye shadow to make your eyes look bigger. Use light shadows on your lower lash line. We also recommend that you sweep two coats of mascara onto your lashes.