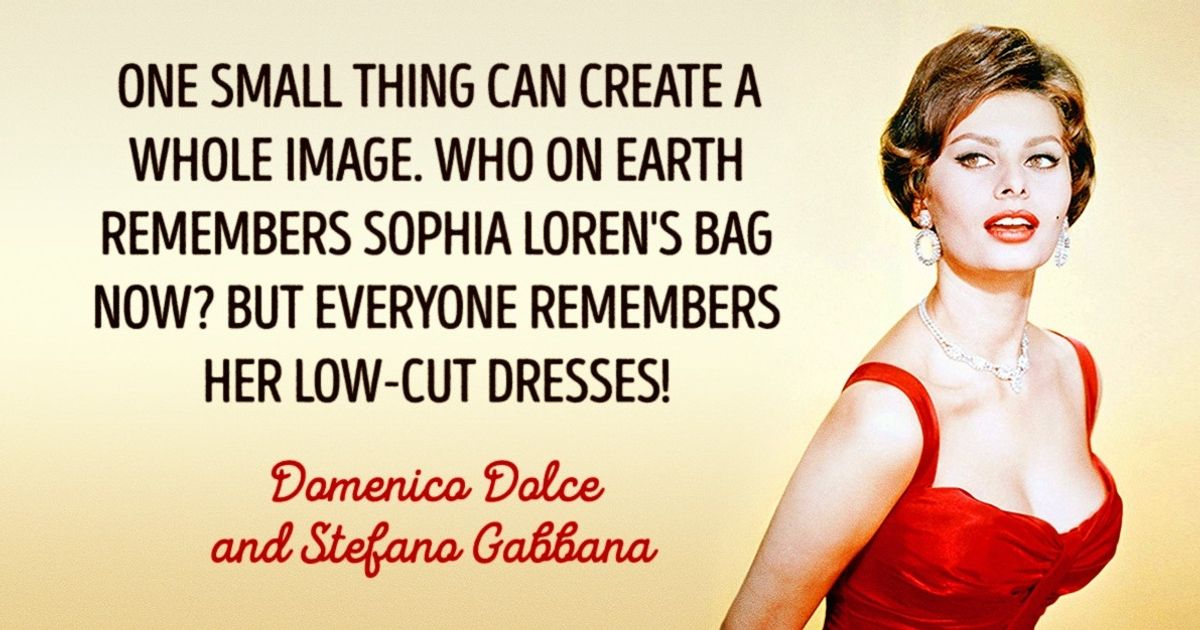 Ten essential secrets from Domenico Dolce and Stefano Gabbana
The two Italian artists Domenico Dolce and Stefano Gabbana have been creating their gorgeous clothes and accessories for more than 30 years. They brought into vogue such pieces of clothing as bustier dresses, ripped jeans, and the lingerie look. Each of their collections becomes an object of desire for women all over the world. What inspires them to create their inimitable clothes is women's oomph and sensuality. So who but Dolce and Gabbana can tell us about how to find our one and only style? 
We at Bright Side are absolutely sure that these pieces of advice are must-reads for any woman!  
'Our first rule is there are no rules.'
'Freedom is the most important thing. Each person should wear only those clothes that make him or her happy. So the only thing we dream of is making every woman find her own beauty and the feeling of lightness.'
'One small thing can create a whole image. Who on earth remembers Sophia Loren's bag now? But everyone remembers her low-cut dresses!'
'There should be a detail that reveals your personality through your clothes. It may be a trifle, but it should characterize your personal style, and people will associate it only with you.' 
'Clothes affect everything in our life from our sense of humor to self-perception.'
Domenico is sure that women want to be princesses in fairy tales. They want to wear sumptuous red dresses and crowns. 'We would like people to always look desirable, because when people appreciate your appearance, you feel a higher level of self-esteem. Let this feeling always be with you.'
'Beautiful underwear is the keystone of sexiness. Wearing good underwear means respecting your own body.'
'The first thing we do is clothe our models in underwear of satin and lace. It's impossible to meet a woman from the south of Italy not wearing a bra. Never.'  
'Every woman should have a little black dress and some awesome accessories to turn her look into something special and awe-inspiring. '
'It could be a pair of stiletto heels, an extravagant clutch, and a Miss Sicily handbag for an everyday look.' 
'Do not chase trends - look for the things that suit you.'
'To find your own style is much more important than to be a fashionable person. Fashion is an artificial thing. When you really appreciate the things you are wearing, you breathe life into them. '
'A corset is the most sensual and graceful piece of clothing that shows your body at its best.' 
'Corsets conceal at least one size. It supports your body in a way that makes it look perfect,' Dolce says. It's no wonder that 'Sicilian widow' dresses are one of the most recognizable works of the artists. These dresses make the waistline look thinner, the breasts higher, and the hips curvy.
'Envy will never make you better. You should be able to appreciate others and let things go.' 
'Sometimes we look at our old photos and don't like what we see. Do not be troubled by it - it just means that you are improving yourself.'
'The number one rule is to be confident and inartificial.' 
'You can be sexy even wearing a simple white shirt. The name of the game is your manner, look, or gestures, but not your clothes. Carry yourself as Naomi, Claudia, Gisele, or the other supermodels do. Your mind and body are closely connected to each other, so your mind is the thing.'
'To be beautiful, you don't have to be perfect.'
Just one feature can make you look extremely sexy. As for me, I adore a distinctive feature. For example, women with big noses. The nose reveals the character. So many women would like to reshape their noses, but I personally admire them.'