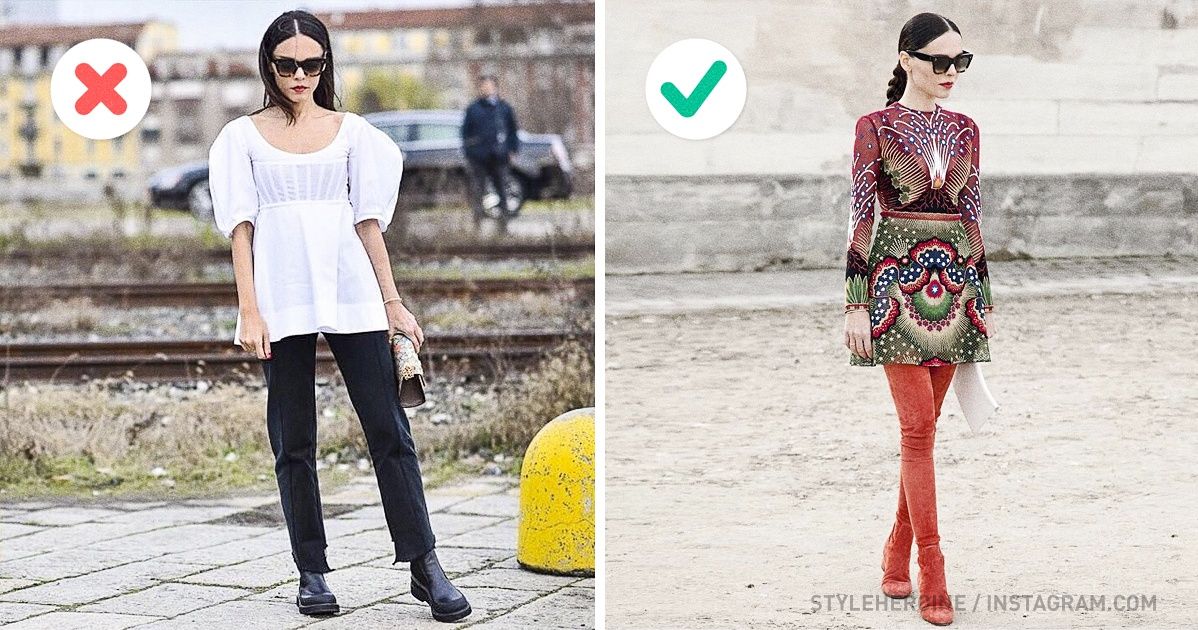 Ten tricks by professional stylists to make us look taller
We at Bright Side adore fashion, and it's impossible to tear us away from experiments with our appearances. For those who'd like to look a little taller, we collected advice from professional stylists which will definitely help you.
V-neck blouses
These blouses and sweaters open the neck and make the whole body look more elongated and tall. Unlike turtlenecks, which visually cut your silhouette, a V-neck is what you really need. A cowl neck shirt may also be a good choice if the fabric's lightweight enough and doesn't make the neck look heavier.
Long slits
A slit looks great both with high-heeled and flat shoes. Remember this simple rule: a skirt from lightweight fabric looks wonderful with a long slit, but it's better to be careful with heavy fabric so as not to distort the silhouette. Pay attention to skirts and dresses with side slits, because they suit everyone and they've never been more trendy.
Flared pants
This tailoring is worth trying on for both tall ladies and delicate petites. These pants fantastically elongate your legs, and they also look great both as a casual and an evening outfit if you wear a beautiful blouse and accessories with them. Remember that if you have a slender physique, you can wear both wide-leg pants as well as those where the flare starts at the knee. If you have a curvy body, you should go with the knee flare.
High-waisted pants
Despite their extreme popularity, low-waisted pants really shorten a silhouette. If you don't want to visually loose a couple of centimeters, you should choose a high waist. High-waisted pants, shorts, and capri pants make your legs look longer and your body taller. Remember that this rule doesn't work with skirts.
Maxi skirts with crop tops
A perfect look for going out. Maxi skirts and crop tops go together very well, making a silhouette that is graceful and slim. Remember that it's better to be attentive when choosing fabric for this look. Light and heavy fabric will look great both for an evening and casual style, but a thin jersey can be your enemy.
Vertical stripes
A vertical stripe can be a godsend for anyone who wants to look taller: it elongates the whole silhouette and visually adds a couple of centimeters of height. The stripes may be of various colors and thickness. Remember that this print has its own rules on how to wear it: no more than 2-3 colors on one piece of clothing. And yes, stripes look amazing on heavy thick fabric for a business outfit.
Neutral shoe color
Of course, high heels are the most obvious decision for those who want to look taller, but heels can have different looks and effects. Heavy thick shoes of a vivid color will attract attention to the lower part of the body, while a pair of elegant pastel heels can elongate the legs and visually add to your height. Remember that for autumn it's better to choose high or cutout ankle boots, because mid-calf boots will make you visually shorter.
Jumpsuits
Don't be afraid of wearing jumpsuits! They suit everyone, no matter if you're slim or curvy. Jumpsuits visually unite and elongate the silhouette. Remember that a proper jumpsuit should bring attention to your waistline, but it's better to avoid emphasizing the hips.
Miniskirts
It may seem that miniskirts cut into a silhouette, but if you choose them well they can work magic. Remember that if you want to look taller, say 'no' to tight skirts and pick a circle skirt. High-waisted miniskirts can also add a couple of centimeters to your height, regardless of whether you wear them with high heels or sneakers.
Pants and shoes in one color
When you're wearing pants or tights, it's better to choose the same color for your shoes. Remember that shiny tights visually divide the silhouette into two parts, while matte tights and pants elongate it and make you taller. Dark shoes go well with black tights, and colored shoes will look great with matching pants.