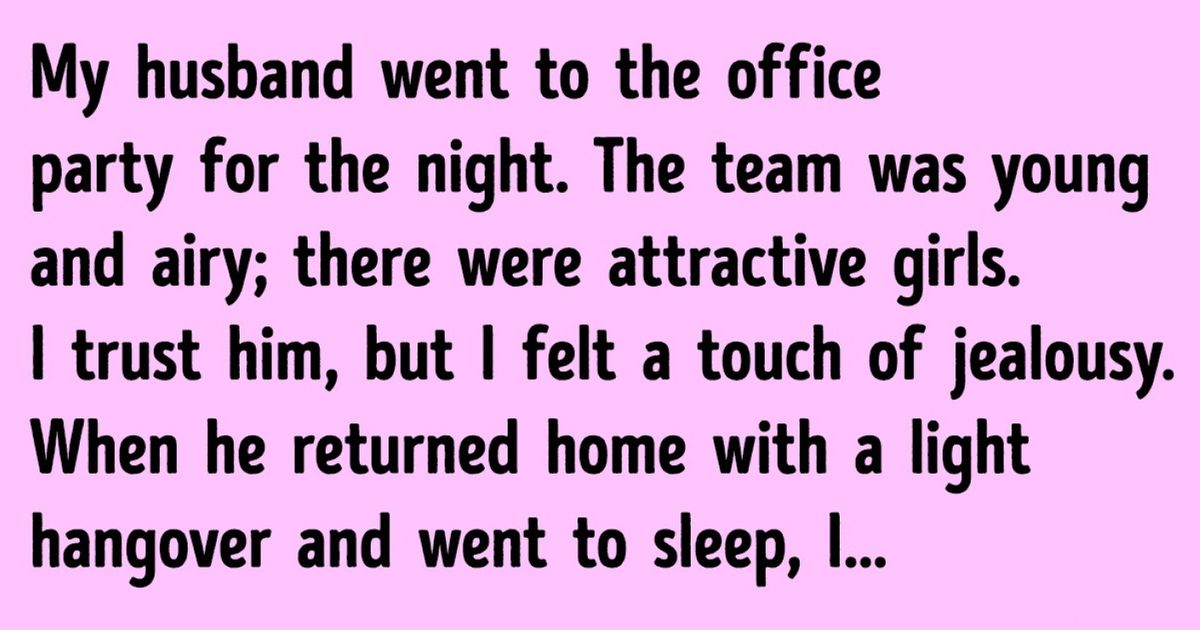 12 Stories That Prove True Love Does Exist
There are some big skeptics out there who don't believe in love, but you can't avoid admitting the existence of the sentiment.
Bright Side brings you 12 stories confirming that true love is a very real thing.
My husband went to the office party for the night. The team was young and airy; there were attractive girls. I always trust him, but I felt a touch of jealousy. When he returned home with a light hangover and went to bed, I decided to kiss him. He literally punched me on the nose. Being asleep, he thought he was still with his coworkers. I'm no longer jealous, and I'm very proud of my husband.
True love for me doesn't consist of expensive gifts and flowers. It's my father, when he helps mom with her bathing, buys her everything she needs, and cleans her shoes on a daily basis. He also never forgets to tell her how beautiful she is. Do you think he is a pushover? No, he just truly loves his wife who has serious spinal troubles.
When I was a little kid, we used to spend time with my friend Michael. We went to the fields at the town outskirts to see the stars. There was nothing wrong or crude, just kid friendships. He told me a lot of stories about constellations and the Polar star. I remember thinking to myself that it wouldn't be a terrible thing for me to do his laundry for him. I guess that was true love back then.
Once I decided to cook a romantic dinner for my husband. Our working routine usually prevented me from doing that. So I did it and heard the doorbell ringing. It was my husband with a bunch of flowers in his hands. He said he just wanted to make his beloved wife happy.
My mother says that my father always used to wait for her to return home from the office at the bus stop. He was afraid that something might happen to her. The bus arrived only twice an hour, and he waited for her even if she was late. No matter if it was raining or snowing, he was always there. And he never complained.
The story is as follows. It's the evening before my birthday, and my bf leaves at 23:50 as usual so as not to be late for his bus. Then, at midnight, I get a text with congrats from him. While I am writing a touching reply, I hear the doorbell. It's my boyfriend with a big bunch of balloons. He is nervous, and he is even reading a poem of congratulations. This is the cutest thing I have ever seen or experienced.
We were just at the start of our relationship, and I invited my bf to have a romantic evening at my place. But that day I caught a cold, and I had a fever. My state was so bad that I could hardly speak. I thought this was the end of our relationship. But the guy surprised me. He went to the drugstore at night and bought all the necessary stuff for me. And then he just went to bed with me to take care of me if I needed it.
I asked my husband what love is. He wrote, "It's when she has mayo and chocolate stains on her T-shirt when she says she eats only vegetables because she is dieting. And you just believe her because you love this woman."
My granny can't walk, and my grandpa takes care of her. Every spring and throughout the year, he brings her flowers and buys her candy. I can't help admiring him.
Everyone has very sweet and romantic love stories. Do you want to know how I met my boyfriend? During a party, he just sat near me and said, "You are my woman now. Don't you dare leave me!" This is how my love story sounds.
After quarreling with my girlfriend once, I went to sleep in the car. With the headlights on, I saw my girl in her pajamas in front of the car. She brought me a pillow and a blanket. The night was spent together.
Yesterday was our 2-year wedding anniversary. In the evening we were going to a restaurant, but I wasn't in a celebrating mood and asked my husband not to bring any flowers. When he came to drive us to the restaurant, I saw a small handmade paper bouquet of flowers on my seat. He made them for me, and these flowers are more valuable to me than any other present.