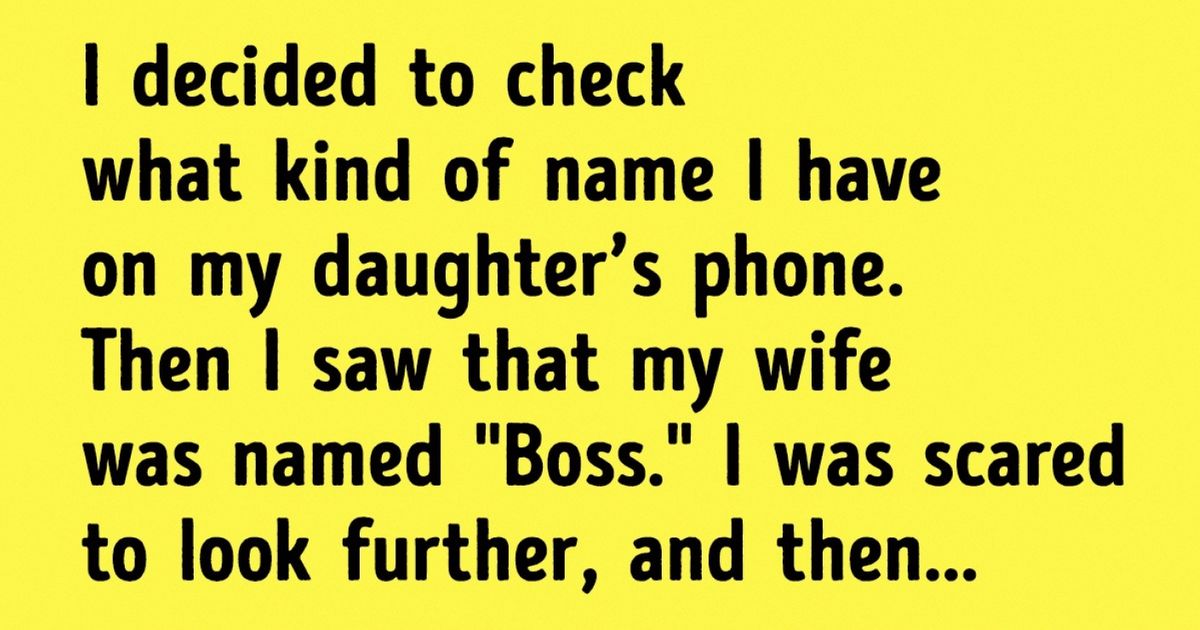 15 Overheard Life Stories Charged With Optimism
Life is great from every angle, and funny stories make it even greater. Sometimes they are even more curious than movie scripts.
Bright Side put together amusing firsthand confessions for your perfect mood.
I decided to check what kind of name I had on my daughter's phone. Then I saw that my wife was named "Boss." I got scared to look further, and then saw that I was labeled as "Boss's Boss." I don't know why, but I felt really pleased.
My wife sent me to the supermarket to buy a fabric softener. Well, actually I was told to take a photo of the shelf of softeners and send it over: apparently, I am not qualified to choose which one to buy. So I came up to the shelf and started taking photos. Suddenly a man nearby pointed at me with his phone and said, "I can send you my photos of all the softeners here. With WhatsApp. I have a full gallery. Each bottle is a close-up from both sides." I replied, "No, thanks. I was just told to send the full shelf without close-ups." "Clear. Lucky man…" I laughed, "Something like that, but thanks for your offer anyway. Great idea with WhatsApp." The man smiled and said, "Sure, but the idea is not mine. See that man taking photos of detergents? He sent the photos to me. And my photo session of baby food starts now. Have fun!"
A friend of mine once told me a story that had happened to her at driving school. She was driving with her instructor along the streets. It was a hot summer day. The city was full of traffic jams, and there was no air conditioning inside the car. So you can imagine the stuffy atmosphere. Then they stopped at a crossroads and had the following chat:

Friend: Oh, it's so hot! I wish I could go to the lake, to its cool waters…
Instructor: Let's go!
Friend: What? I am not going anywhere with you!
Instructor: It's a GREEN light now! LET'S GO!
My friend had a neighbor, an old grandma the whole neighborhood called "Scooter" after the German band of the same name. How did she get that nickname? Well, she had a granddaughter whose name was Faina, but they called her Faya. And the grandma had a very specific pronunciation. So every time she came out to the balcony, she yelled, "FAAAYAAA…" just like the guy from Scooter in his crazy song.
My great-granddad is 93. He still has a wonderful sense of humor. Recently, he was asked what he thought was the reason for his longevity. And he cunningly winked his eye and said, "You know, TV shows are so addictive… I have to live on to find out what's gonna happen next."
When I was 8, our family lived in a house with a big backyard. My friends often came by to play. One day they decided to stay longer than usual. My parents told me to send them home. So I came up with nothing sillier than to ask them, "Are you hungry?" They replied eagerly, "Yes, we are!" And I said, "Then go home!" My parents are still mad at me about that.
I have a personal driver. He usually drives me to work and from time to time gives me a lift at night for additional salary bonuses. One evening I was dead drunk and called him to pick me up. It was already 7 a.m. in the morning. So I sat down in the front passenger seat and immediately fell asleep. When I woke up, I looked around. To my right, we were still driving. To my left – no driver. I closed my eyes and opened them again at once. "What the heck is going on?!" I grabbed the steering wheel in panic. And then it dawned on me that I was riding behind a tow truck. It turned out the driver had dropped by his house for a minute, and the car was towed away for a parking violation.
My friend couldn't choose his cat's name for a long time. He eventually came up with "Come Here." Now every time he says, "come here," a fat furry Pumba bursts into the room. It is very funny!
I was at work and got a call from my wife. I picked up and heard a man's voice: "Good afternoon, Nicolas! Your wife is at St. Francis Hospital. Can you come here?" I didn't ask questions, just jumped into the car and went over there. When I found my wife, she was sitting with her leg in a plaster cast.

"What happened?" I asked.

She lowered her gaze and said quietly, "I was jumping."

"Jumping? Where?"

"I was jumping from the sofa to the armchair and imagined there was burning lava under me..."
My friend's sister had an interview with a very promising company. They asked her when she would like to have her vacation. She chose dates randomly. They asked what salary she would like to have. She put down the first number that came into her head. And then they asked her what she could do that her potential manager couldn't. She pondered and then said, "I can do the splits." And she actually did it. They hired her.
When my husband and I go to bed after a fight, we turn away from each other. Once, our cat reconciled us. It lay down in the middle of the bed, and I decided to hug it. I turned, and my husband turned at the same time because he also wanted to hug the cat. We ended up hugging each other. The peace was back.
All my life I've lived with sticking-out ears. I managed to survive bullying at school and constant jokes in college. I even got married with such ears. My husband always liked them and often called me "Flappy," which pissed me off and cheered me up at the same time. And then eventually I had an operation! Now I am completely happy. I have a new life. My ears don't stick out anymore, and they look superb. I thought that I would never hear anything regarding my ears from my husband again. And what do you think? Now he calls me "Unflappy."
I was passing by an entranceway and saw a huge, 7-foot-tall man who was dialing a code on the house intercom. A menacing child's voice came out of it: "Password." And the man answered, "Smurfs."
My father really loves pranks. When I was a child, he once asked me, "Have you ever tried ant eggs?" I said, "No." The very next day, he bought 2 of them: small, white, and oblong. He fried them in the pan, put them on a plate, and brought them to me. I refused for a long time… Eventually, he ate one himself and made me eat the other. It was tasteless and crusty. When I grew up, I asked him, "Dad, what was it actually?" And he said, "Relax, they were just grains of rice."
I just love the men who bring their kids to kindergarten. So severe and brutal, they carry pink bags, plush rabbits, and teddy bears. Today I saw a genuine motorhead with a long beard and a leather jacket. He was baby talking with his little daughter and even allowed her to put a daisy crown on his head.