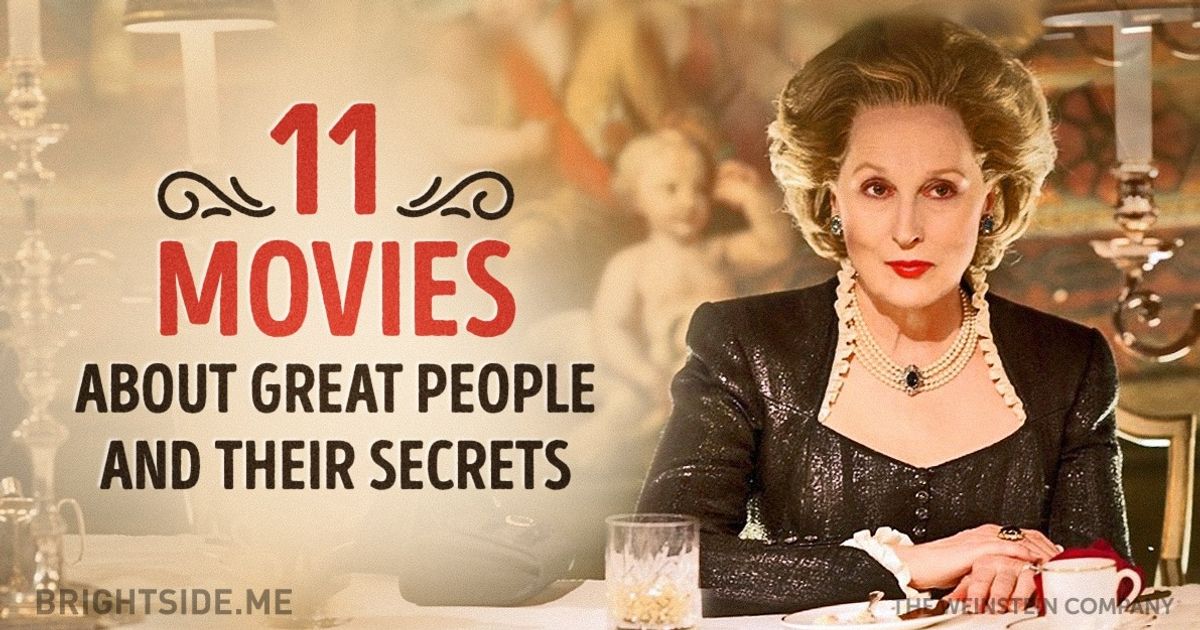 11 brilliant movies about great people and their secrets
Extraordinary people have always been the driving force behind the progress of style, society, and state affairs. These brilliant individuals fought for their dreams, made their grand plans come true, and changed the face of the world. Their mundane lives are like a celestial comet that leaves a wide and bright tail behind it. But they're ultimately still just people, and like any of us, they have their own weaknesses, troubles, and secrets.
Today, we at Bright Side would like to recommend 11 brilliant movies to you that will let you get to know some great personalities a bit better.
Coco avant Chanel
Mademoiselle Chanel is the paragon of style, independent femininity, and bright individuality. Everyone knows of the great Coco, but few are aware why the young woman called Gabrielle chose such a funny alias. This biopic uncovers quite a lot of mysteries about this extraordinary woman, who dared to pit herself against all the odds. Fabric came alive in her hands, her soul craved for more, and she never stayed in one place for too long. However, life brought her many trials. Was it to be love, or art? She had to make a choice.
Pollock
Amazing pictures by Jackson Pollock cost hundreds of millions of dollars today. Some admire his works, while others consider them plain stupid. But this movie is not about the degree of the artist's genius - it's about his everyday life; the holidays he took, his thoughts, deep feelings, and artistic ideas. The creators of this picture managed to make it very close to reality, and this is a great chance to get to know Pollock better as a person.
Diana
 Can fame make a person happy? This was a question posed before Diana Spencer, whose role in British and world history was exceptional. This woman was loved by millions, and she enjoyed a high social standing and all the riches she could imagine. But nobody knew what actually hid behind the sunny smile of Lady Di. This movie confirms the same old truth - true love doesn't care for social status or money; it comes along and changes you forever.
The fantastic Elvis Presley will probably never cease to win women's hearts. His songs are unforgettable, and his magnetic smile assures everyone that love still rules the world, whatever any cynics might tell you. Jonathan Rhys Meyers managed a seemingly impossible feat - he played the role of the cult hero brilliantly. Unfortunately, we can only guess about the early years of the legendary musician, but this movie nevertheless gives us a great chance to learn some interesting details about it.
My Week with Marilyn
Sometimes, one week spent with a person lets you discover more than reading his or her full biography. This movie is focused on the life of the beautiful Marilyn Monroe during her shooting for The Prince and the Showgirl in 1957, and the details abound here. You'll see all the little pieces of her working life - the getting into character, the marvellous costumes, the artistic arguments. And among all this hustle and bustle the actress suddenly finds herself very much involved with the director's assistant, who will eventually write a whole book about these moments.
Surviving Picasso
Pablo Picasso is a real colossus of the world of art. This man was both contradictory and systematic; a person with an intricate vision, but one who could see everything in perfectly simple terms. How long could you stand being at the genius artist's side? How long could you do without him? And how long will he let you be near him? The movie title has the word 'survive' in it not by chance. It's about the great artist who loved life until its end, and took everything from it, not wishing to miss even the smallest trifles, and in his works we see the true reflection of his being.
Hawking
Extraordinary personalities like that of Stephen Hawking never come into this world by chance. This biopic describes the loss of physical control over his body by an incredibly intelligent man, and his almost unbelievable will to preserve his mind, his hope, and love in his heart. It's hard to imagine that what you see on the screen is not in fact make-believe fiction, but the real story of a man, played so brilliantly by the magnificent Benedict Cumberbatch.
The Iron Lady
This is not just a true-to-life movie about a woman who changed the political rules and proved that women can take leading roles in the political world. First of all, this is a movie about Margaret Thatcher herself - a strong lady who was destined to acquire great power. The viewers will see the whole picture of what's going on her world of dry calculations, and will notice that the Iron Lady made a delicate choice between her private life, ambitions, and the interests of her country.
Gia
Gia Carangi, a girl from Philadelphia, had the world at her feet in the early 80's. This passionate and independent young lady thought it best to move with the times, striving for success, flashing on the magazine covers, tasting the forbidden fruit, and never paying attention to conventions. However, there are many dangers awaiting a person on a path like this. The magnificent performance by Angelina Jolie adds to the magic of the movie. She is said not to have agreed to the role straight away, explaining that Gia's life had been too much like her own.
Madre Teresa
A touching story about Mother Teresa, the woman who was called a saint even while she was still alive. The movie depicts the life of this wonderful woman after she left the Sisters' Abbey. Teresa is faced with the biggest choice of her life, but she is not daunted by the trials and slums of Calcutta, and her blue-white garments will become a symbol of decency in the far corners of the world where people have forgotten how to smile.
Nowhere Boy
There are numerous documentaries about The Beatles, but dry facts will not tell the real story behind a great personality, and who wouldn't be fascinated to learn about the life and thoughts of the legendary John Lennon at 16, or who he loved, or where his heart was calling him to. That's why we recommend this movie - it shows the great musician from a whole new perspective. The viewers will find out what role his mother and aunt played in his upbringing, learn how his very first band came into existence, and feel the gist of his famous words: ''Rock'n'roll is eternal... Its rhythm penetrates through all obstacles.''