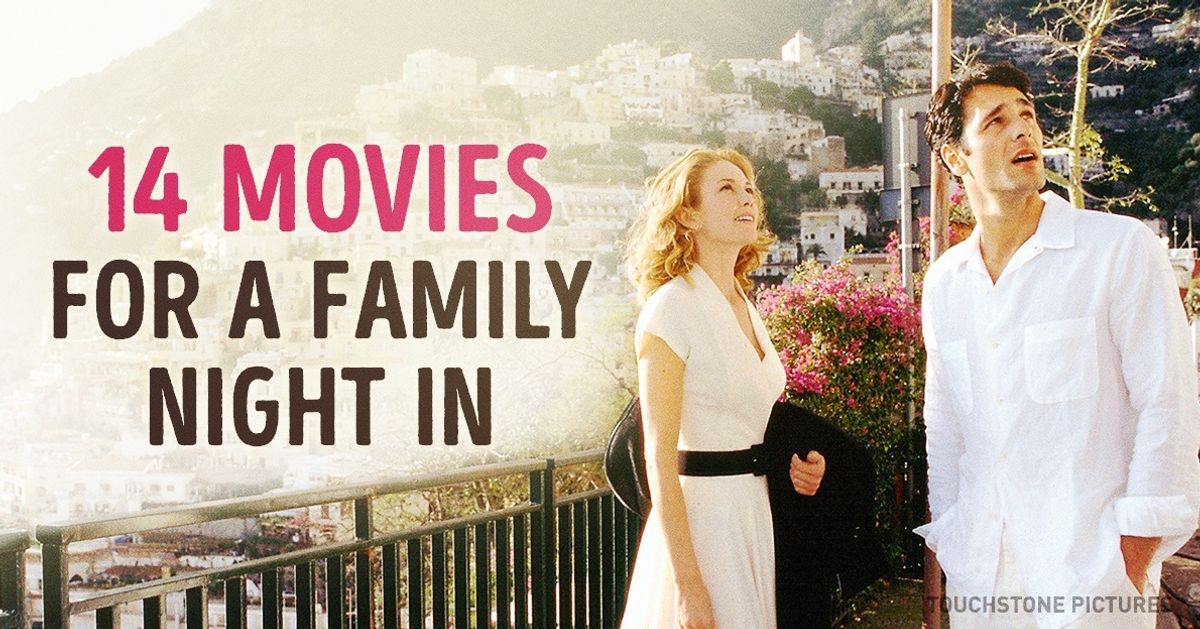 14 superb movies for a great family night in
What better way to spend your evening than watching a great movie with your loved ones? Luckily, there are plenty of films that fit the bill here, whether you're looking for something about love, friendship, or adventure.
We at Bright Side picked out 14 of the best. So grab a warm blanket, and sit yourself down on the sofa - it's movie night!
Stealing Beauty
This charming and glamorous movie from the legendary director Bernardo Bertolucci plunges the viewer headfirst into the world of provincial Italy. Following the suicide of her mother, a young American woman, Lucy, decides to spend the summer at the villa of some distant family friends. Little does she know that this summer will change her life forever: she'll find her father, discover her mother's secrets, and meet her first true love.
Anna's life is moving at just the right pace: she loves her job, has a new apartment in a beautiful district of the city, and the perfect boyfriend...who is in no hurry to propose to her. The young woman decides to take the initiative and propose to her boyfriend. In order to do so, however, she has to make a journey across the whole of Ireland, accompanied by a gloomy man called Dilan.
Under the Tuscan Sun
Going through a tough divorce, the writer Francis Mayes decides to move to an old Tuscan villa in Italy. New friends, welcoming neighbors, unexpected adventures, and, of course, a new love all await her there. This is a wonderful movie permeated with the life-affirming spirit of Italy; watch it and your heart will feel a new warmth.
The Wedding Date
 Cat has no choice but to go to the wedding of her sister, where she'll have to meet up with her whole family...and a former lover. To make sure she doesn't feel alone during the big celebration, she 'hires' a man to pose as her new boyfriend. This light, elegant comedy perfectly captures some of the contradictions of love and family relationships.
A Walk in the Clouds
This film transports the viewer to postwar America, where two young people, who met accidentally as a result of unusual circumstances, find themselves caught up in unbelievable events. A movie notable for the superb performance of a young Keanu Reeves, from a time long before he shot to superstardom in The Matrix.
Secondhand Lions
Jay is forced to spend a whole summer at his Uncle Garth's ranch. From the first moment he dreams of nothing but escaping his cranky old relatives, but soon his mood changes when they begin to tell him about mysterious adventures, faraway countries, magical kingdoms, and even some lost treasure. This is, quite simply, a wonderful film for the whole family.
Flying Home
Colin is a young and well-meaning businessman. For the sake of his next big deal, he is sent to Flanders, Belgium, in order to find a very rare species of dove for his business partner. But he could never have imagined that he would meet a wonderful young woman named Isabelle, who turns all of his plans upside down. This is a beautiful, heart-warming movie.
Shadow Dancer
Jeremy Taylor, a young editor who works for a book publishing business, receives a new task: to search out the famous writer Sheldon Parish and sign a contract with him for a new book. Yet Parish has not written anything for 20 years, and talks to virtually no one. Taylor soon learns just how difficult this challenge is going to be, for he has to not only gain the famous author's trust and induce him to take up his pen once more, but also prevent himself from falling in love with the writer's beautiful daughter.
The Hundred-Foot Journey
The movie starts off in the bustling city of Mumbai, but soon moves to a small French village in Provence. Hasan, a young chef who has emigrated to France, endeavors to teach all his culinary wisdom to the prim and strict Madame Mallory, played by the ever-wonderful Helen Mirren.
The Bucket List
Two terminally ill old men decide to put together a list of the things they want to do before they leave this world. Parachuting out of an airplane, going on an African safari, traveling to the Egyptian pyramids, and driving racing cars are just some of the crazy ideas they have. Through it all, we learn something of the real meaning of life.
The Best Exotic Marigold Hotel
A feel-good, very witty comedy film about a group of British pensioners who decide to move to India and live out their final days in the seemingly wonderful Marigold Hotel. But when they arrive, they soon learn that their new residence is not as luxurious as they had been led to believe. This is a movie with a truly outstanding cast, including Judi Dench, Maggie Smith, Bill Nighy, and Tom Wilkinson.
The Magic of Belle Isle
An old, disabled writer who is tired of life moves to a small town where he was once famous. He hates most people, drinks constantly, and hopes that something will change for the better in his life. He soon gets acquainted with a young girl who, much like him, loves nothing more than to tell stories. All in all, this movie benefits from a stunning performance by Morgan Freeman.
The Grand Seduction
This is the story of a tiny Canadian village with a population of just 120 people. The local people are in desperate need of jobs, and so the mayor takes the decision to sign a contract with a large oil-extracting company to build a large factory. But for this plan to work, the village needs a doctor. A heart-warming, cozy little film about simple pleasures and eternal values.
Will
After the sudden loss of his beloved father, young Will is left an orphan. The boy has just one dream - to somehow make it to Istanbul and watch the final of the Champions League, where his favorite Liverpool United are playing. On his way there, Will meets a former Yugoslavian football star named Alec. The pair will go on to share many experiences in each other's company, and both learn, gradually, to enjoy life once more.