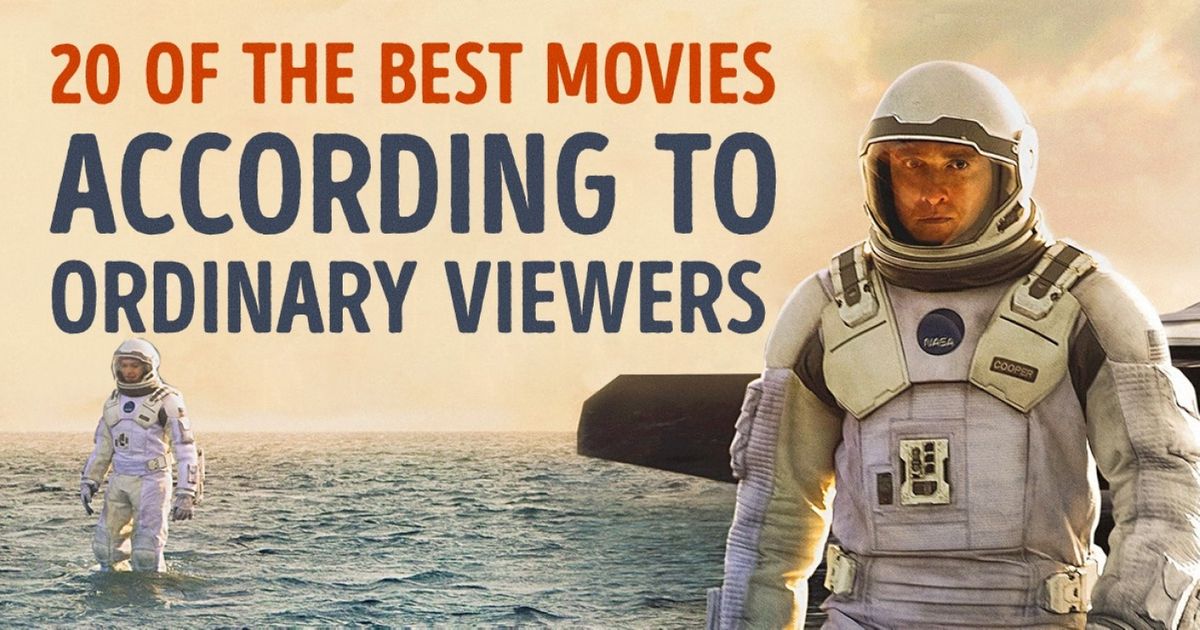 20 of the Top-Rated Movies According to Ordinary Viewers
Today we made a list of the top-rated movies by real cinemaddicts, and here's what it looks like. We're sure you have your very own list of Top 20, so go ahead and share your favorite ones in the comments!
Inception
Dom Cobb is no ordinary thief. He possess the rare ability to enter people's dreams and steal secrets from their subconscious. His 'talent' made him a very valuable asset to the team, but the cruel world of corporate espionage took everything he loved away from him. 'Inception' creates a whole new world of impossible where there is no reality without dreams and no dreams without reality.
The Thing
A group of American scientists was conducting research in a remote area of Antarctica when they met a creature that could take the shape of its victims after having attacked them. It's worth mentioning that the movie was shot without using any visual effects, which actually makes it even more thrilling.
Whiplash
Andrew Neiman has a dream to become the greatest musician of his time. The ambitious young man was discovered by a famous jazz teacher who was also known for his terrifying teaching methods. Andrew's passion and love for music quickly turns into obsession, as his tyrannical teacher pushes him to the edge of his ability. Definitely a must-see!
The Silence of the Lambs
'The Silence of the Lambs' is a masterpiece of the psychological horror genre. The plot, cast, and production are all aimed at one single goal: to grab the audience right from the start and not let go until the very end.
The Matrix
'The Matrix' trilogy, being a revolutionary neo-noir science fiction movie, addresses some serious problems that are still very urgent today. The movie sends one clear message: even though we live in the age of computers, people are no machines. No matter what the chances are for success, and no matter how much we should pay for the truth, humanity will stand up for the future and keep on fighting for love.
The Good, the Bad, and the Ugly

Il buono, il brutto, il cattivo
A mysterious stranger wanders into the Southwest during the Civil War. He is burdened by nothing: no home, no friends, and no partners until he meets two bounty hunters and forms an uneasy alliance with them. If you are a true fan of the Western genre, you most likely have watched this one. If not, include it in your must-see list.
City of God

Cidade de Deus
The movie follows a 30-year-long story of the City of God, one of the poorest neighborhoods in Rio de Janeiro. The place is real and so are the stories adapted for the big screen. The actors are also real people from the streets, with their authentic behavior and genuine emotions that one can't fake.
12 Angry Men
This movie was nominated for an Academy Award in several different categories and named in the list of the best and most inspiring movies in the past hundred years. The story begins in a New York City courthouse, where an 18-year-old boy is accused of stabbing his father to death. The jury of twelve is being instructed by the judge to decide whether the boy is guilty or not. This is one truly great movie! Definitely a 10 out of 10!
The Help
A stunningly sincere story about black women in the 60s in Mississippi spending their lives with white families as maids. 'The Help' received hundreds of positive reviews, calling the movie appealing, entertaining, and very touching.
The Shawshank Redemption
A successful banker is convicted of murdering his wife and her lover and is sentenced to prison for life. In the Shawshank State Penitentiary, he faces the brutality and violence of prison life. He somehow adapts to it and starts working on his prison break plan. It's really a great movie that you can watch again and again.
Knockin' on Heaven's Door
Two young men suffering from terminal cancer meet in a hospital room. Having only a couple of hours at their disposal, they decide to take one last trip to the sea. When you watch this movie, you can almost literally taste the sea water with them, or are they tears? Who can tell?
Goodfellas
Henry Hill, a young man who always wanted to be a gangster, is taken under the wing of a local mafia leader. Accompanied by his new friends Jimmy Conway and Tommy DeVito, he spends most of his time killing and robbing people. A great realistic movie about gangsters, perfectly portrayed by incredible actors.
The Prestige
Robert Angier and Alfred Borden are two rival illusionists who know everything about magic tricks and great shows. As time passes, their professional rivalry has transformed into a full-scale war. Now they want to find out literally everything about each other's famous tricks and spoil upcoming shows by any means.
Pulp Fiction
Vincent Vega and Jules Winnfield are two hitmen who love to dive into philosophical discussions on religion and morality while getting the job done for their crime boss. This Quentin Tarantino movie has already become iconic for its ironic mix of humor and violence.
Saving Private Ryan
Captain John H. Miller leads a group of eight soldiers through enemy lines to find Private James Ryan who has just lost his three brothers in battle. The movie received universal critical acclaim, winning several awards for being utterly sincere and providing a very realistic view of war.
Snatch
Guy Ritchie is definitely a master of his art. You will recognize his peculiar style right from the first scenes. 'Snatch' is one of his masterpieces, and the cast is just incredible! If you haven't watched it yet, put everything aside and start. Yes, right now.
The Usual Suspects
Five criminals happen to find themselves in the same place at the same time to finish their business. Some mysterious mob boss now wants them to join his team and make a decision that will change everything. This top-rated thriller gives you a simple plot and then piles on layers of deceit, unpredictable twists, and great music.
Fight Club
An ordinary office clerk who suffers insomnia desperately looks for some changes in his life. He meets Tyler Durden, a soap maker with a twisted personality whose head is full of crazy ideas. This very good adaptation of Chuck Palahniuk's 'Fight Club' has already become a modern classic.
The Departed
Who could tell that two best graduates of the police academy would part ways in such different directions? One of them is an undercover cop and the other one agrees to become a mole in a police department that focuses on organized crime. This movie will grab you right from the beginning and only let go when the closing credits move across the black screen.
Interstellar
The worst drought and dust storm in human history leads us to the worst food crisis on the planet. A group of NASA researchers and physicists embark upon a space journey to broaden human horizons and transport Earth's population to another planet. 'Interstellar' is truly one of the most thrilling, thought-provoking, and visually resplendent movies ever made.