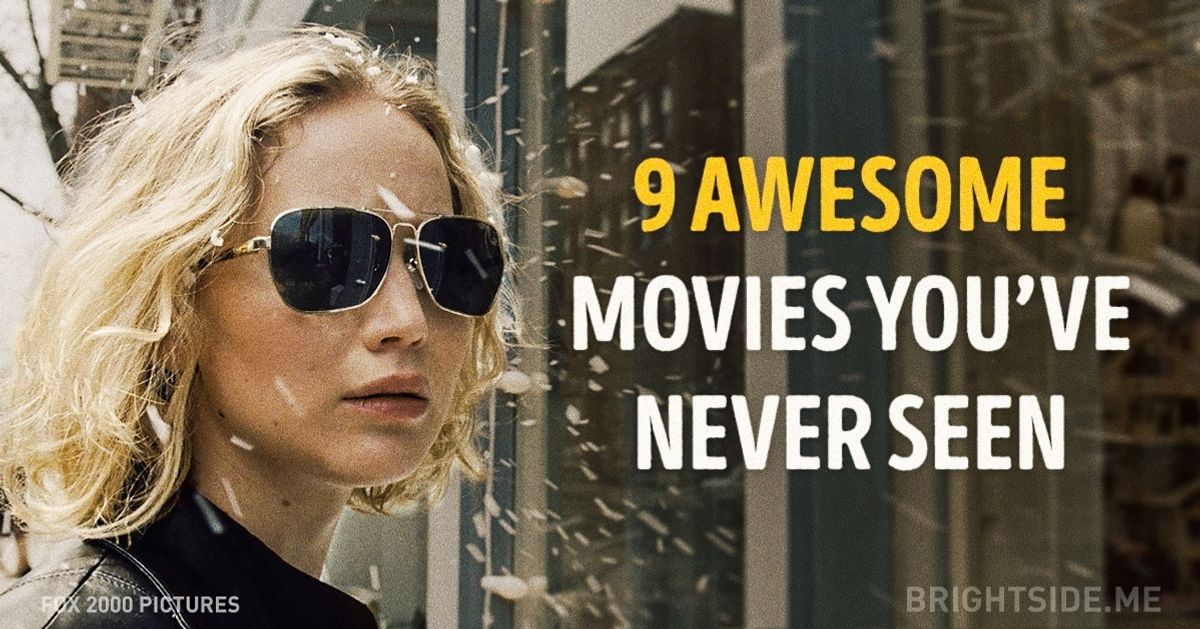 Nine awesome movies that you've probably never seen
Sometimes a variety of new movies makes you feel like a kid in a candy shop. Before you can even watch one movie, dozens of new ones come out.
For those who missed the premiere and didn't have time to watch these exciting and interesting movies, Bright Side has made a list of some new ones that have already managed to collect lots of rave reviews.
Steve Jobs
This is the life story of one of the most brilliant minds of the world whose name is familiar to everyone. Steve Jobs was an effective leader, a great businessman, and an excellent entrepreneur. He devoted all his time to his job and did his best in everything. But few people know the difficulties he had to face before Apple became a world leader.
The Hateful Eight
In the United States after the Civil War, a famous bounty hunter named John Ruth is taking a caught criminal to Red Rock, where she is to be executed. On their way, several other travelers join them. But a snowstorm ruins their plans, making them stop and find shelter in a tavern that has already gathered a bunch of strange people: a Mexican, a cowboy, and a Confederate general. And one of them is not who he says he is.
The Big Short
This story, based on true events, tells us about some long-sighted guys who, independently from each other, predicted the global economic crisis of 2008 long before the whispers on Wall Street. And, having predicted it, the guys unwittingly start to make money off it.
Joy
Joy was born in a common American family of Italian origin. When she was a child, she decided that she would be happy and successful, but unfortunately her life became more complicated when she grew up. She got divorced, became a single mother, and has a low-wage job. Joy knows that only she is able to create her own happiness, and she should climb to success on her own. Her talent and a great desire help her to make her way into the business, but before that, she has to get through a lot of ups and downs.
Solace
The FBI faces a series of murders that they cannot explain. The criminal kills their victims painlessly, leaving no trace of evidence. Detectives seek the help of psychic John Clancy, who has to get in an unequal fight with the killer and find a way to trap the man who's always 10 steps ahead.
The Finest Hours
This plot is based on real events that took place in 1952. Two oil tankers get into a massive storm and slowly begin to go down. The disaster seems quite inevitable, because the sailors have no chance to use the lifeboats in such waves. The Coast Guard is dispatched to the epicenter of the storm to rescue the drowning crew. They decide to carry out this rescue mission on small motorboats.
How to Be Single
Tired of living with her boyfriend, Alice breaks up with him and moves in with her older sister Meg. She finds a new job and a new friend, Robin. Robin turns out to be a passionate fan of rocking at night and tries to bring timid Alice into her insane life. This romantic comedy is sure to please both men and women.
Trumbo
Dalton Trumbo, one of Hollywood's most successful screenwriters, had no idea that the blacklist 'Hollywood 10' was real until he made the list and was thrown out of the dream factory's life forever. A few years later, Dalton decides to go back to the cinema and prove that nothing and no one can stop a talented person.
Mr. Holmes
The world's most famous detective retired a long time ago, and now spends his years in a quiet village, taking care of his own apiary. However, he's still haunted by the memories of a woman and her mystery that remained unsolved. Mr. Holmes decides to solve the case that made him resign more than 30 years ago.