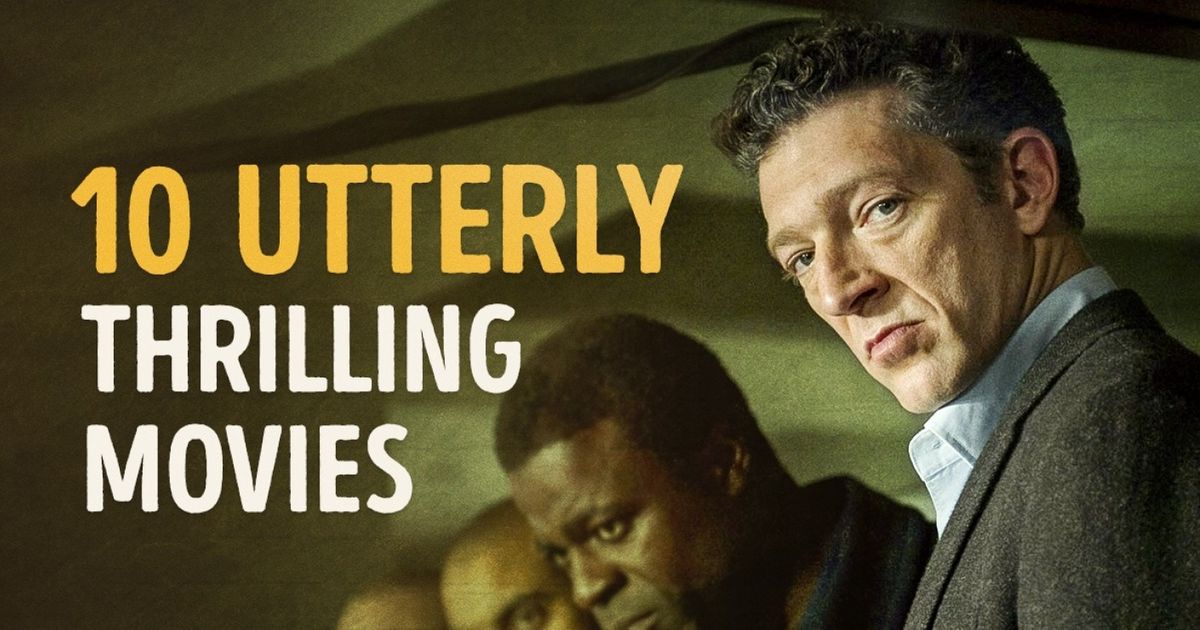 Ten of the most utterly thrilling movies of all time
There are movies that leave you so enthralled that you're scared to even blink while watching them in case you miss something crucial.
Here are ten of the most thrilling films that had us at Bright Side utterly transfixed from the first scene.
Sometimes people get the inexplicable feeling that something bad is going to happen. Housewife Linda, the heroine of this film played by Sandra Bullock, has just this kind of experience of mysterious presience, which is later confirmed: her husband is killed in an air crash. Yet the next day he is somehow alive again and has no awareness of what happened. Only his wife can stop the evil twists of fate.
The Usual Suspects
Five petty criminals are gathered together and made to work for a powerful and mysterious 'client.' They don't trust each other at all and constantly ask themselves who are they working for, why them, and to what end? The answers turn out to be completely unexpected. Despite the fact that the movie overflows with events and characters, a superb plot and a fantastic performance from Kevin Spacey make this one you can't afford to miss.
Before I Go to Sleep
This is the story of a woman who not only lost her memory, but continues to forget everything new that happens each day. As soon as she wakes up, her life begins again: she has to find out what her loved ones are called, what she does for a living, and thousands of other little details. She copes with the use of stickers and a video diary. One can only imagine what secrets are still hidden in her mind that she can't recall. This is a tense psychological movie like no other with a great cast.
Paycheck
A super intelligent engineer, played by Ben Affleck, who carries out work with advanced technology has a problem with a number of gaps in his memory. His memory of working on a special project is to be wiped clean. He is willing to agree to the deal if it's a question of a few months, but the decision before him is whether to erase 3 years of his life. He agrees, but can later never imagine what happened to him in that period of seemingly nonexistent time.
Fracture
At first glance, this film starts out with a straightforward scenario: a man kills his wife, admits his guilt, and refuses a lawyer. All the facts of the murder are known. Will, a young assistant to a regional judge, was sure of this. But something's not quite right: the criminal seems too sure of himself, and soon we understand why. The stand-off between the film's stars Hopkins and Gosling is captivating.
Minority Report
In the not-too-distant future, advanced psychic technology appears which allows for the creation of a government department that prevents crime before it even takes place. Its employees can learn of someone's intention to commit murder before they carry it out, arresting the individual for a crime which they never committed in reality. But one day, the chief of this department (Tom Cruise) himself falls under suspicion. It's only then that he finds out about the darkness of the society in which he lives.
Red Lights
A group of academic researchers begins a hunt for real-life witches - so-called 'psychics.' Their research proceeds well until a well-known charlatan called Silver appears. A young assistant, Tom Buckley, tries to smoke out the famous conman. He is so certain of his righteousness that he closes his eyes to the real reason why Silver leaves the scene. And it is then that his greatest critic mysteriously dies.
Time Lapse
Three young friends live ordinary lives, hoping - like many of us do - for something better yet to come. One day they discover that there is a strange machine in the apartment of their neighbor, a scientist, which produces a photograph of their living room once every 24 hours. The images reveal what will happen in that particular place on the following day. At first, the images only make the young friends happy, but soon they fill them with horror. Then they have just one question: can the future be changed?
Trance
Simon works at an auction house and is responsible for paintings. Along with a group of criminals, he steals a very expensive painting, but there's a snag: after a blow to the head, he can't remember what happened to it, and it seems to have disappeared completely. The enraged criminals torture him, and then force him to remember all the details of the theft with the help of a hypnotherapist, Elizabeth, who puts him in a trance. This is a confusing but attention-grabbing film which brilliantly depicts a game of cat and mouse.
Passion
This film, a remake of the French production Love Crime, at first seems like a drawn-out affair, but ultimately leaves the viewer with much to think about. Two strong women set out on the warpath after a very public shaming, and do so in a very French way: with elegance and a sense of chic. The resulting story will leave no one indifferent. Noomi Rapace and Rachel McAdams give great performances in this tragic story which will stay in your mind for a long time.