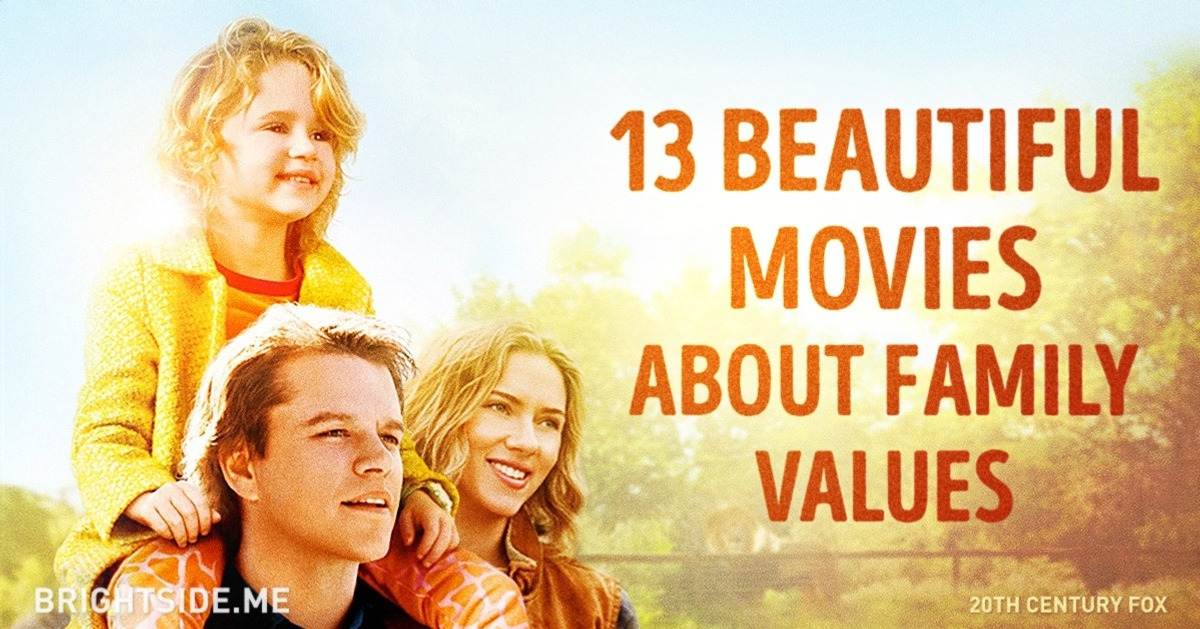 These 13 beautiful movies prove that family is everything
A heart-warming inspirational movie can be a good substitute to a session with a therapist, especially when comes to family problems. Every movie sends its own message; try to capture its essence, and who knows - maybe it will help you make a difficult decision or prevent you from taking the wrong step. The following 13 movies are perfect for a warm family movie night in. Enjoy!
The Family Man
If you're expecting this movie to be a light-hearted family comedy-drama, you'll sure be surprised. In a good way, though. 'The Family Man' with Nicolas Cage only 'pretends' to be a fairy tale. Instead, the movie addresses some serious issues and promotes fundamental family values. This one definitely deserves a round of applause.
About a Boy
'Growing up has nothing to do with age' reads the slogan to this movie, and we couldn't agree more. This is a very touching film about the most important things in our lives: love, happiness and family. Here funny meets sad, and sincere but odd boy Marcus matches selfish personality Will, played by Hugh Grant. They both teach each other something new and in turn, grow up.
Blue Valentine
'Blue Valentine' is an American romantic drama movie that is basically about how to save relationships and giving one more chance to a happy family. A married couple, Dean (Ryan Gosling) and Cindy (Michelle Williams) were head over heels in love with each other. As time went by, their passion dissolved, and their relationship became more of a burden than a gift. Will they be able to fix what is falling apart?
The Addams Family
This fantasy comedy movie was based on a cartoon about the Addams family, a weird yet very loving married couple and their numerous relatives. They look strange, wear black clothes all the time, and live in a very spooky old mansion. Their relatives are crazy witches, murderers, and even monsters. But nothing prevents them from being happy, and loving and caring for each other with all their hearts. This may sound strange, but we think the Addams set a great example for all modern families!
It's Complicated
'It's Complicated' is a light-hearted and not-at-all-complicated family movie filled with insightful dialogues, funny stories and great jokes. If you think that people after turning 50 immediately become serious and responsible, watch this movie, featuring the brilliant duo of Meryl Streep and Alec Baldwin, and it will prove you wrong.
Walk in the Clouds
After watching movies like 'Walk in the Clouds', you start to believe that universal values like beauty and love might still just save our crazy old world. Great music, talented actors and an intriguing plot - that's what makes this movie worth watching. 
As Good As It Gets
'As Good As It Gets' is a very romantic story about people who've become stuck in vicious circles. As a result, they find it impossible to let someone new into their lives. The meaningful dialogues, a brilliant cast and numerous comic situations will brighten your day, and once again remind you that everybody needs somebody.
Kramer vs. Kramer
'Kramer vs. Kramer' is one of the best movies out there to help educate young people who dream of the perfect family. Life is not a box of chocolates, and every family faces their very own dramas - that's what we all have to keep in mind. Dustin Hoffman and Meryl Streep, a married couple going through a divorce, teach how to cultivate patience and love and how to put someone else's interests first.
Facing Windows
This Italian movie directed by Ferzan Özpetek depicts a married couple whose marriage is slowly falling apart. However, 'Facing Windows' is also about how to find your true self, how to change your life, and finally be happy with what you have. It's no easy task to change everything at once, but it's worth trying.
The Story Of Us
A great and incredibly touching movie that shows how little, seemingly insignificant details can destroy everything we have. Tons of annoying little things eventually turn into mutual misunderstanding and resentment, causing stress and depression. Michelle Pfeiffer and Bruce Willis did a great job portraying a couple who found themselves in this situation.
The Painted Veil
'The Painted Veil' is based on the novel by W. Somerset Maugham. A small, quiet village, lost somewhere in the mountains. Walter (Edward Norton) and Kitty (Naomi Watts) fall in love with each other during a cholera epidemic. Their love story is a bit different compared to the one described by Maugham in the novel, but it's charming in its own way. The movie sends one clear message: true love is never of the passionate kind born in a blink of an eye, but one that grows strong through understanding and patience.
Yours, Mine & Ours
'Yours, Mine & Ours' is one great must-see movie for the whole family. Although it has a quite simple and predictable plot, you'll nevertheless find it funny and worth watching. Brilliant actors, a beautiful soundtrack and about a zillion jokes - what else could you wish for when it comes to a good comedy movie?