Test: See If You'd Survive These 10 Dangerous Situations
We've all been exposed to a dire situation at least once in our lives. Clearly, these times are never expected, but that doesn't mean we shouldn't act in a conscious, calculating, smart way. In that case, the best way to face these unfortunate situations is likely to get prepared in advance. In the end, this preparedness could save our lives, so it's definitely worth doing.
Bright Side decided to put together a test that was fun, but at the same time, could raise awareness about the importance of safety procedures whether you're at work or simply camping in the wilderness. This way, you'll be better prepared to face extreme situations that you hope you'll never actually come across.
1. You're in your house and an earthquake suddenly breaks out. What should you do?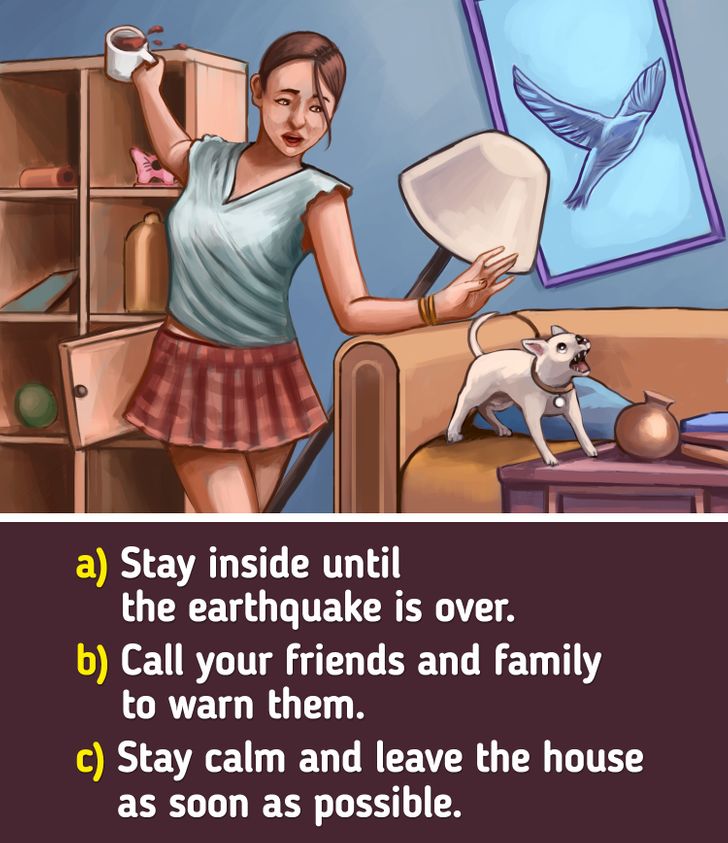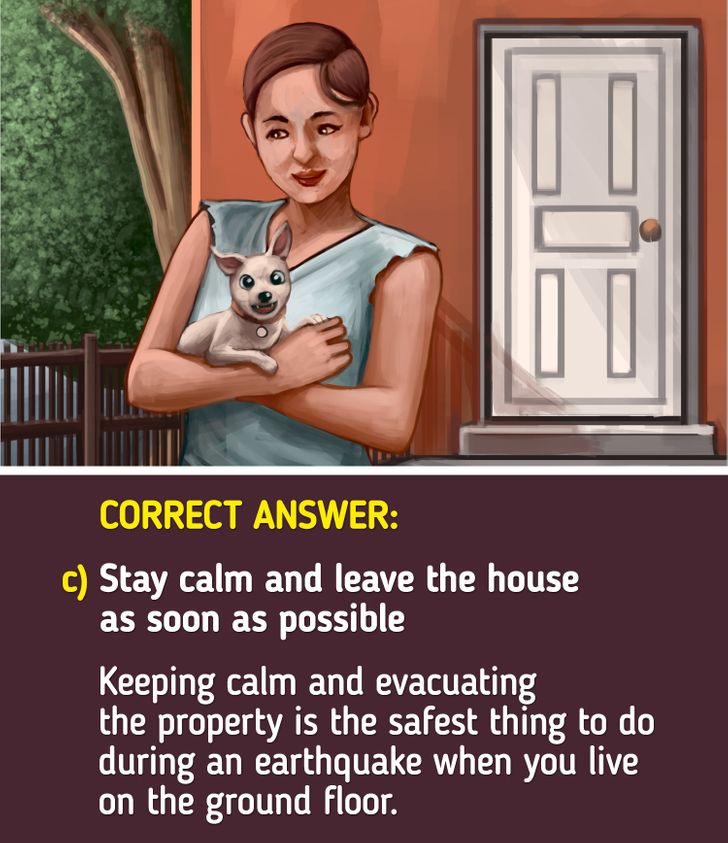 According to experts' advice, if you're located on the ground floor of a building or a house and are warned before the earthquake hits, the best thing to do is find your way out of the building as soon as possible before the most violent movement begins. You have to cover your head and eyes with your hands to avoid suffering any damage in case objects or debris fall from the ceiling or other higher places.
2. The earthquake hits when you're in a 10-story building. The first thing you should do is: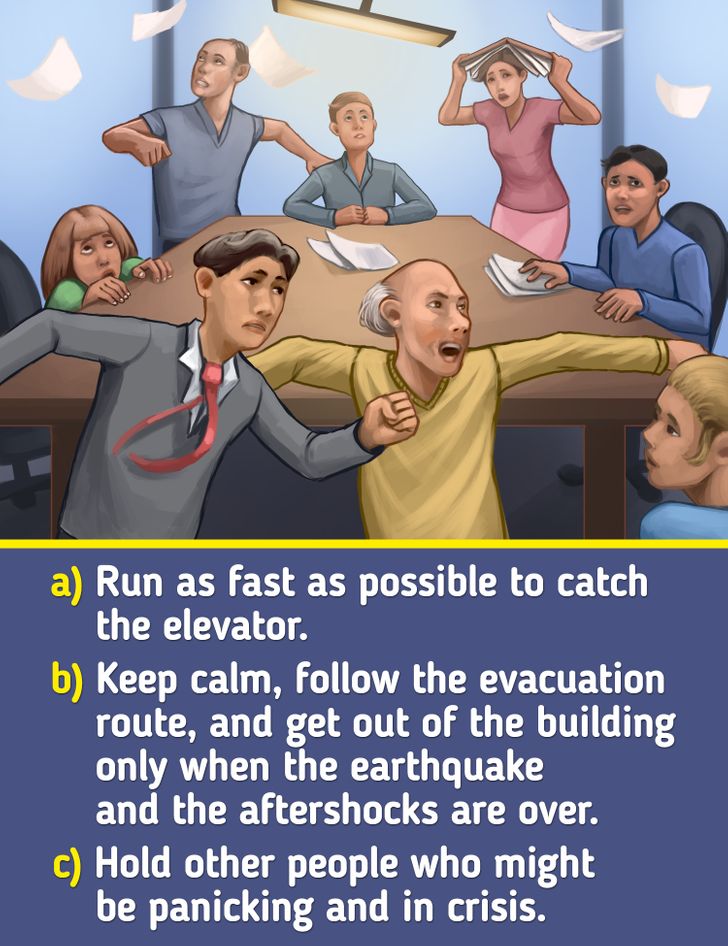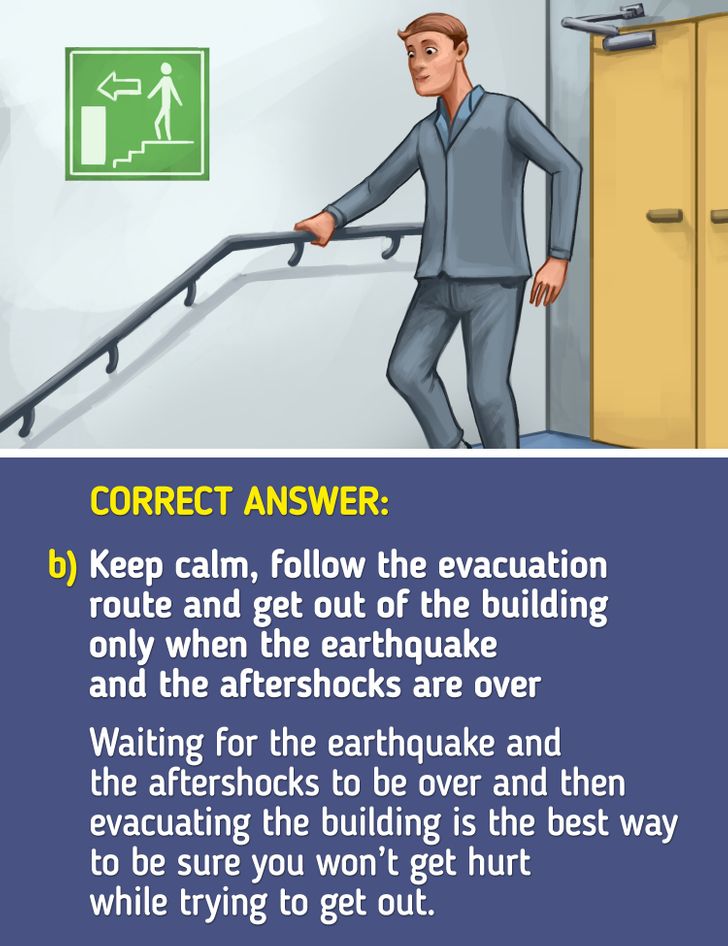 But if you're in a high building where evacuating is more difficult, you should do the drop, cover, and hold technique and wait until the tremors are over. You should also avoid being next to windows or other objects that might fall on you.
3. You're on vacation at the beach. Everything's fine when suddenly you see the ocean water start to recede. What would you do?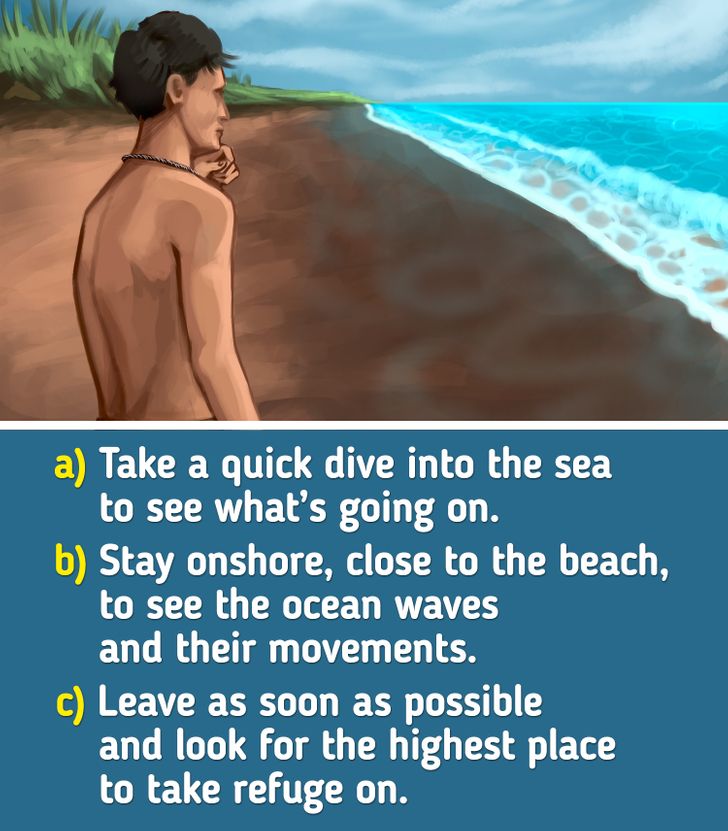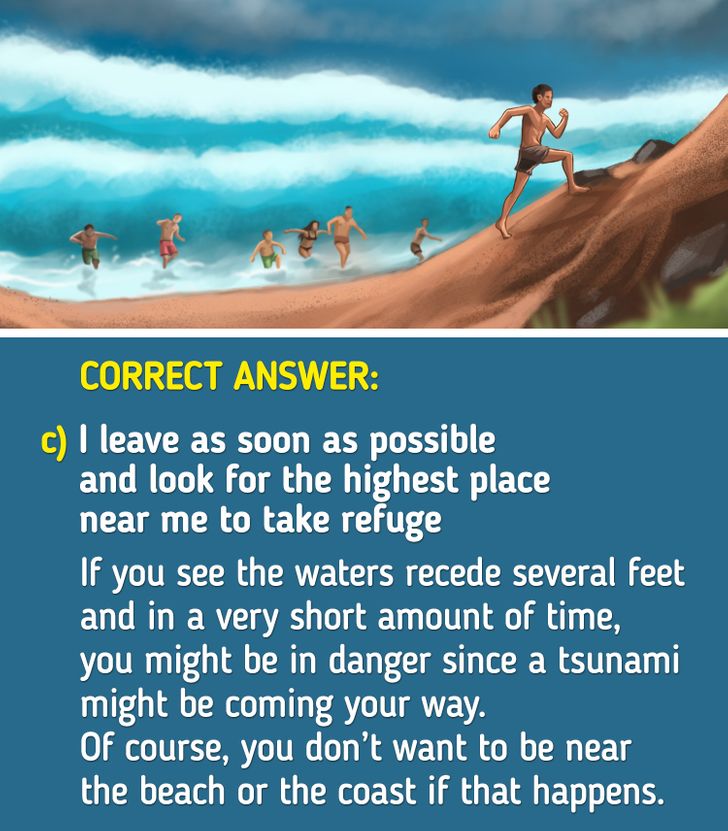 One of the safety measures you should take if you're at risk of being present during a tsunami is to move away from low-risk and high-risk coastal areas, such as beaches.
4. You're driving while a tornado is taking place. You can see it in front of you but it doesn't seem to be moving. What should you do?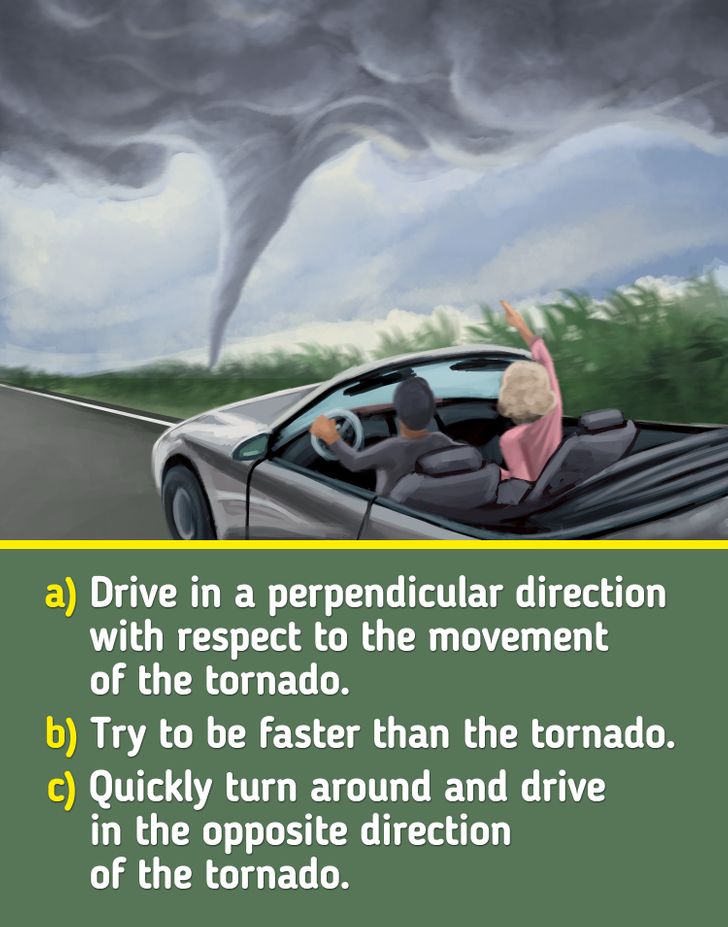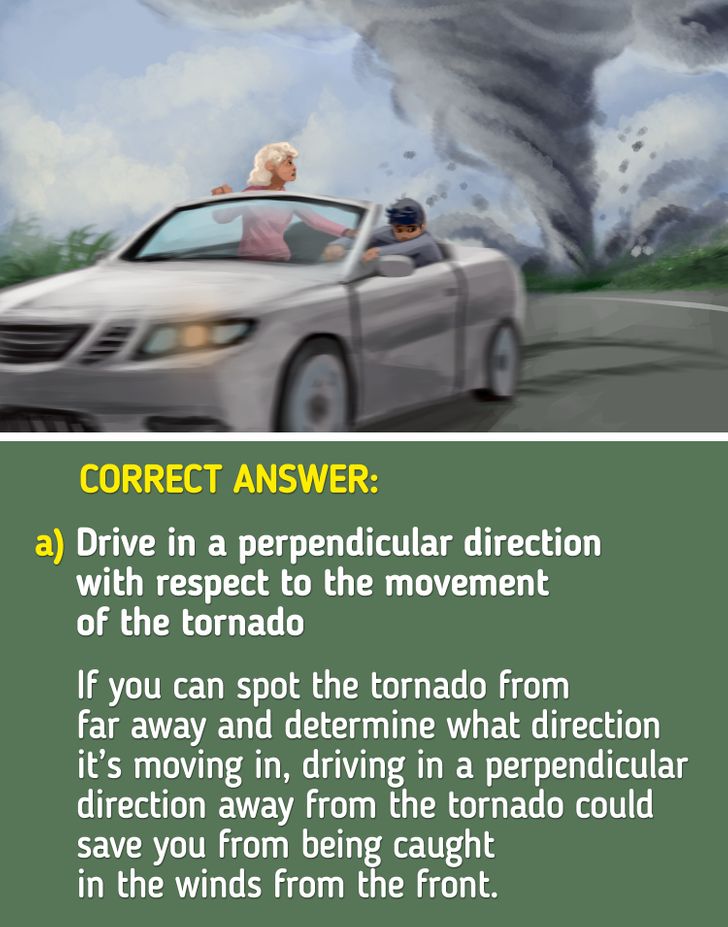 If you're driving and suddenly see a tornado, you avoid most of the damage, depending on where it is and how it's positioned. It also depends on which direction it's moving in. If it's far away and heading east, you could drive south, for example.
5. What is the safest room at home to take shelter in during a hurricane?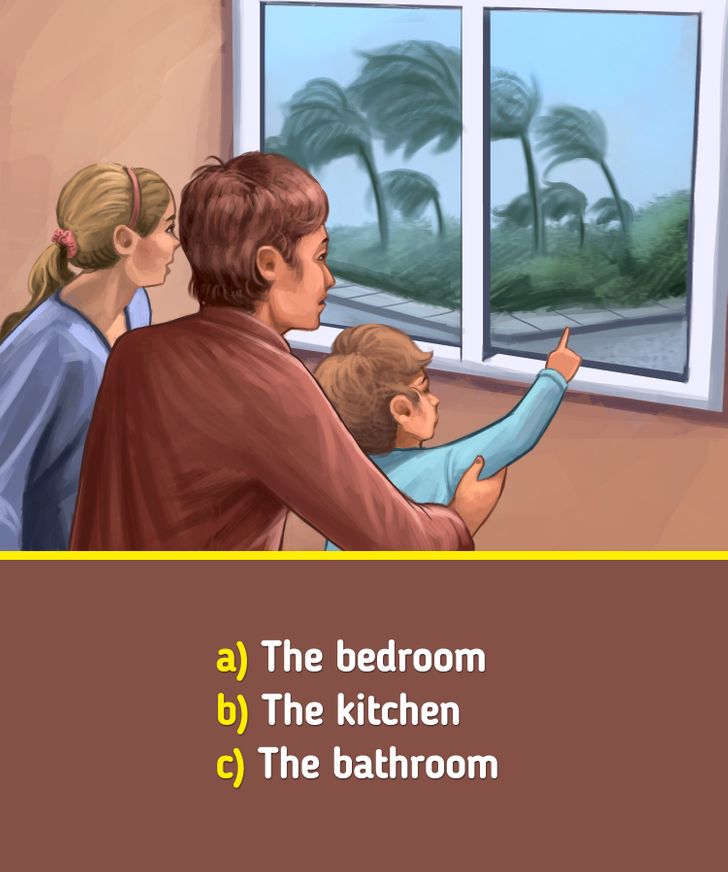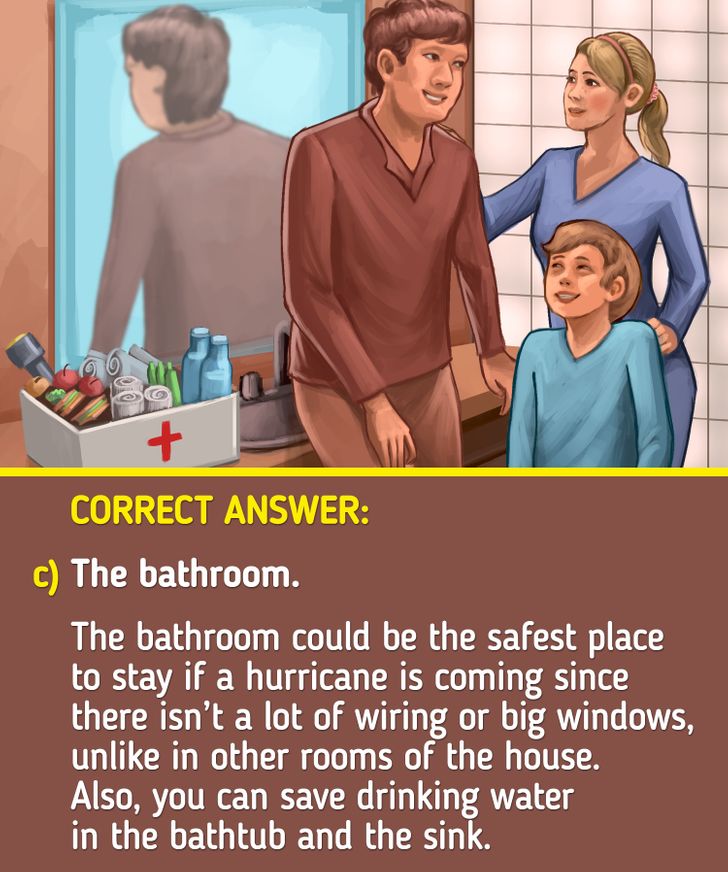 6. A tornado occurs while you're away from home, camping in the wild, and there's no place nearby where you can take shelter. What's your best option?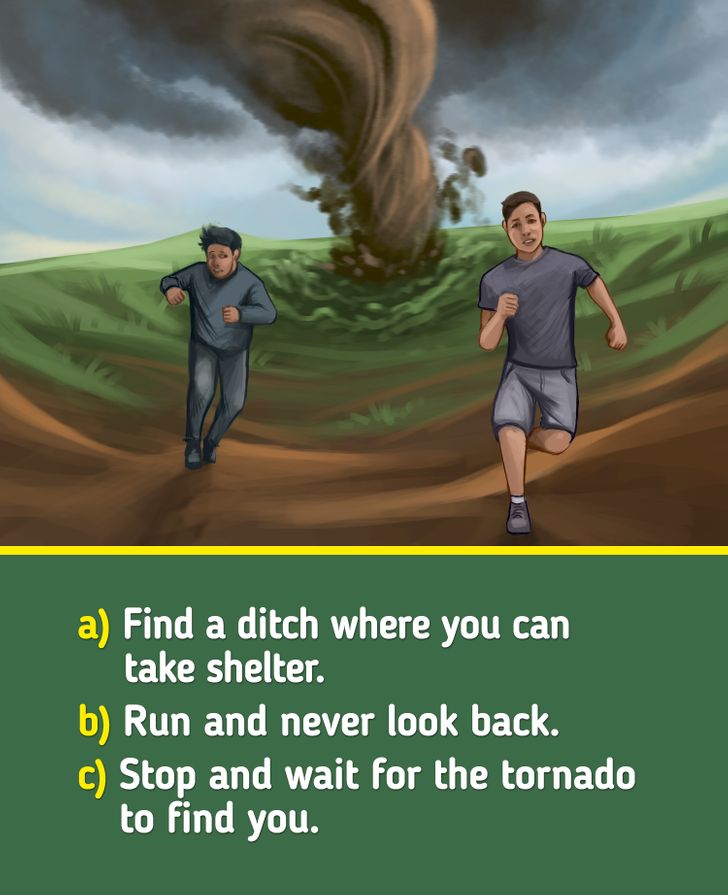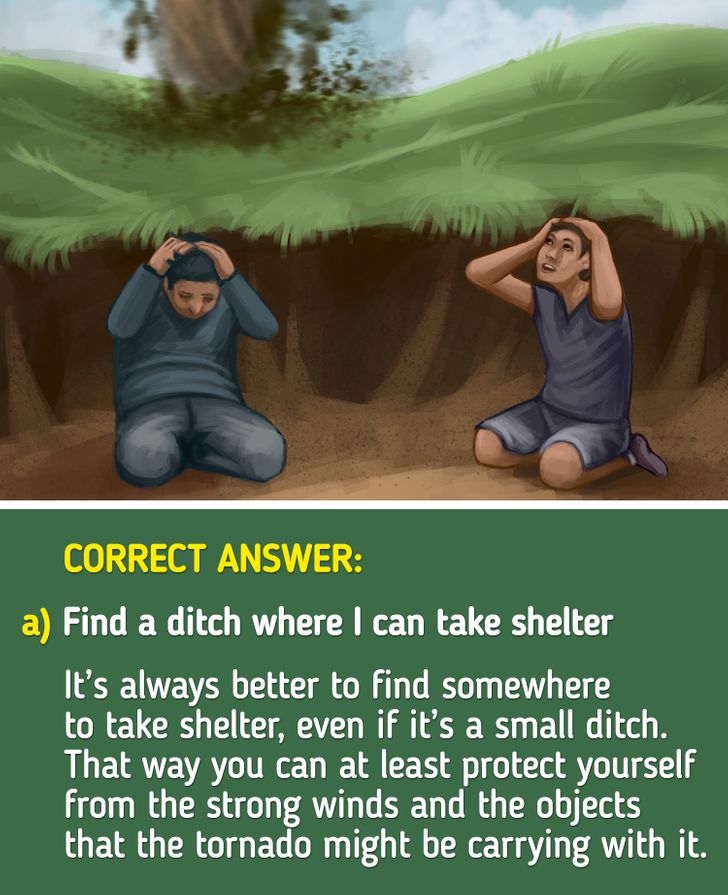 It's always a good thing to know how you can protect yourself from a natural disaster such as a tornado.
7. You're driving along quietly when suddenly your car goes off the road and into a lake. The car starts to sink, so you don't have much time to save yourself. What would you do?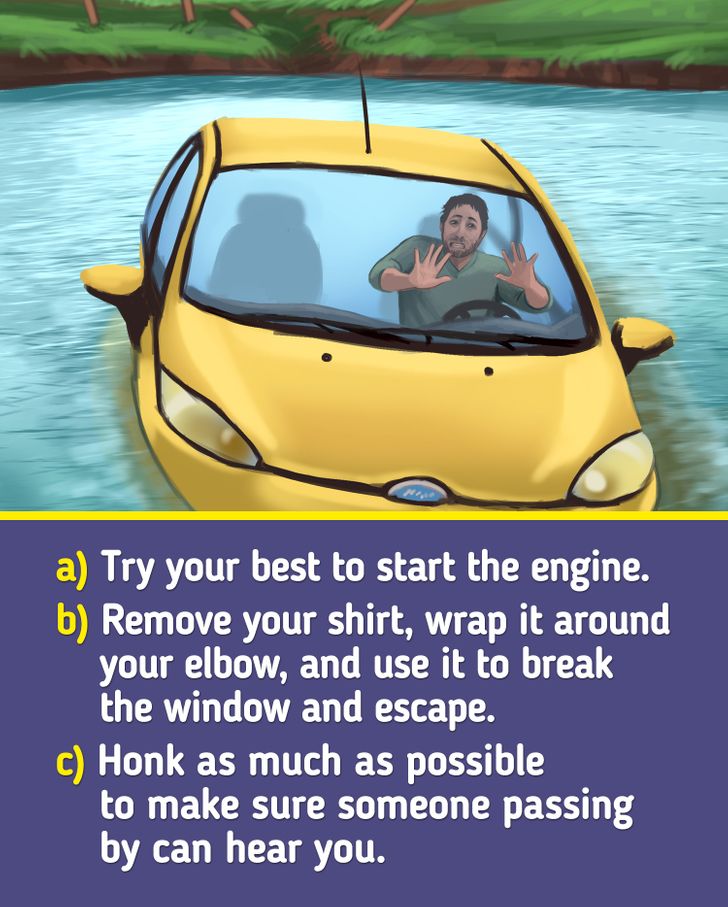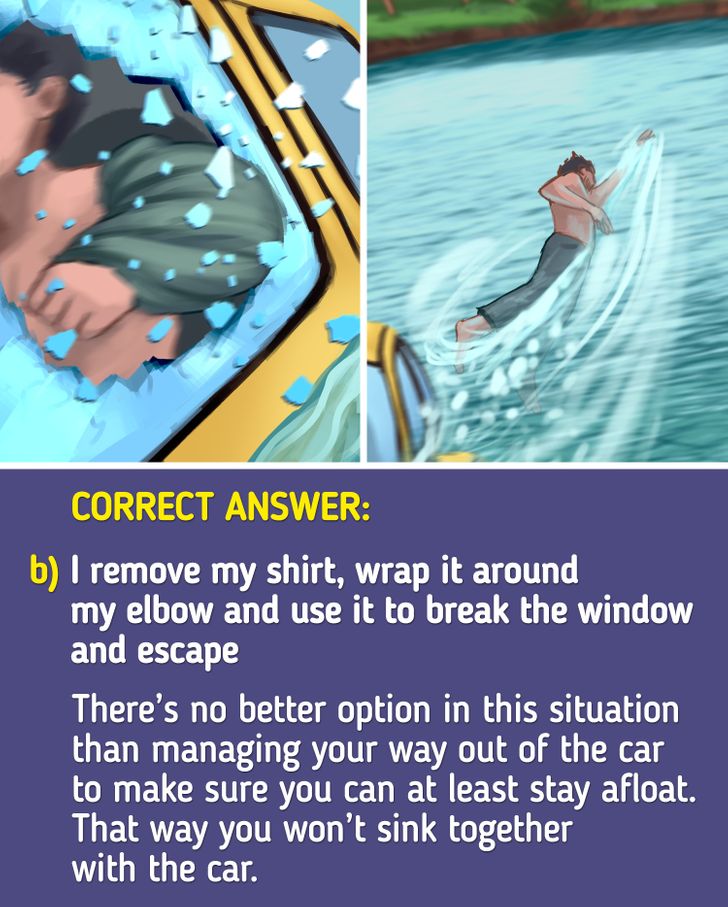 If the water level begins to rise very quickly inside the car, it's best to follow these recommendations. Remember not to waste energy trying to open the door if the car isn't flooded yet. Don't try to break the windshield, it's several layers thicker than the side windows.
8. A sudden fire breaks out in your house. Before calling the fire department, what do you do?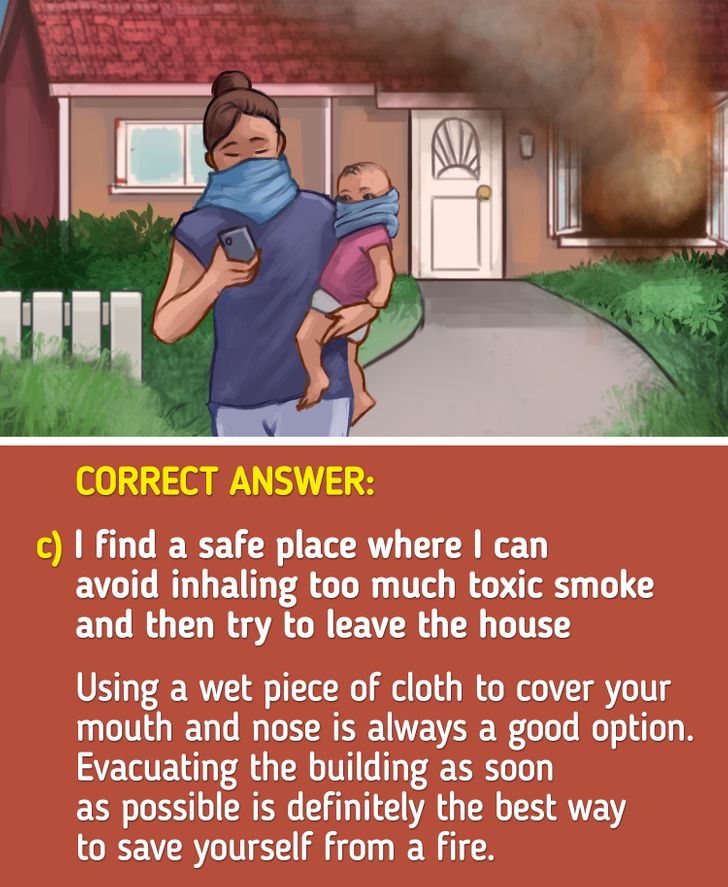 Remember that the best way to save yourself from any accident is prevention. But if you're caught in a fire, you can follow these recommendations.
9. You're wandering on a mountain when you suddenly find a big snake in your path. What should you do?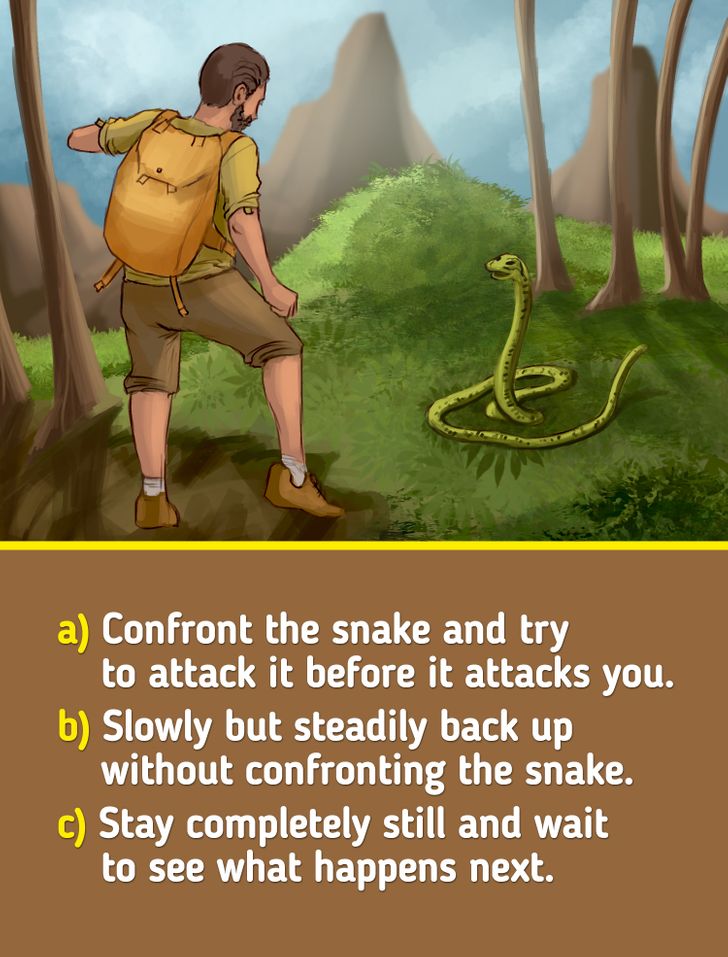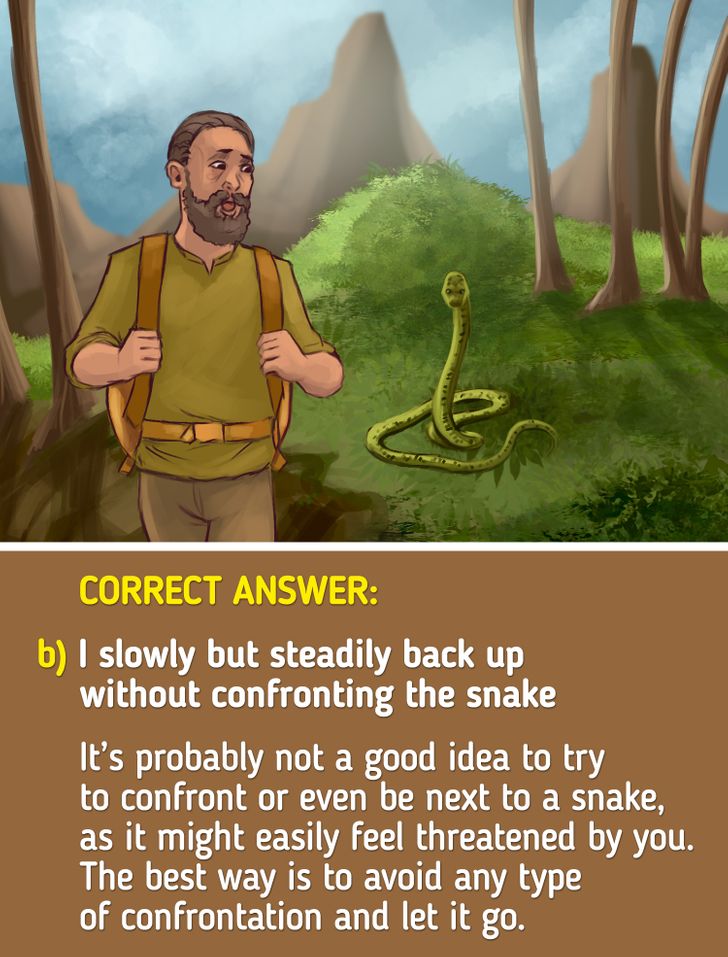 Experts say the best way to avoid being bitten by a snake is to just let it be and give it enough space for it not to be threatened. So it's best not to even think about confronting it.
10. You're driving along the normal route back to your place when suddenly it starts hailing. What's the best thing you can do in this situation?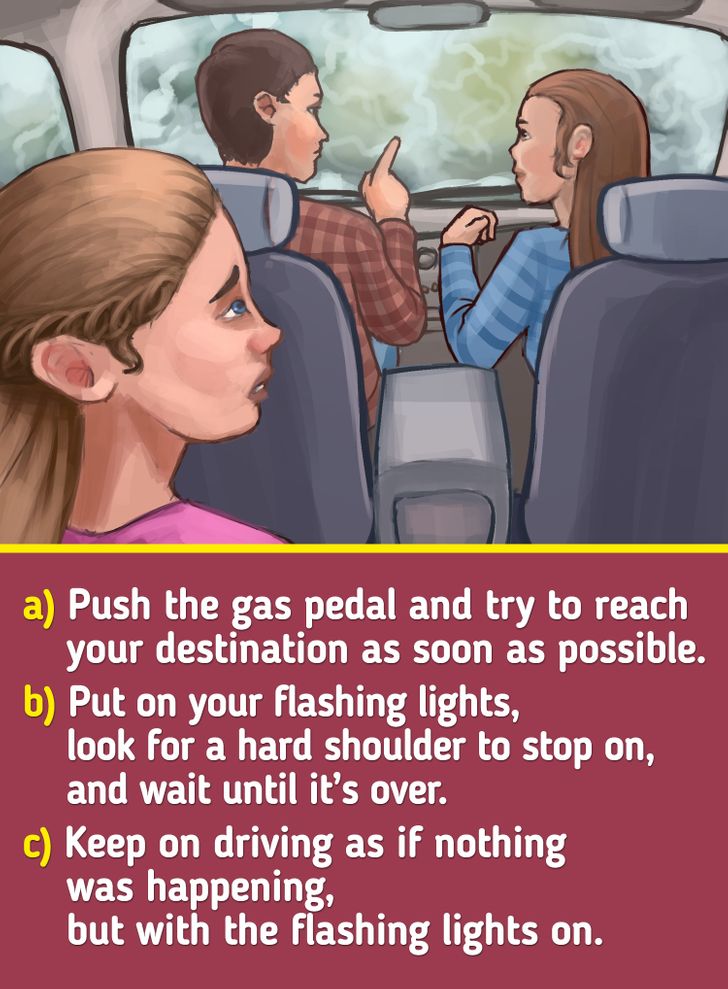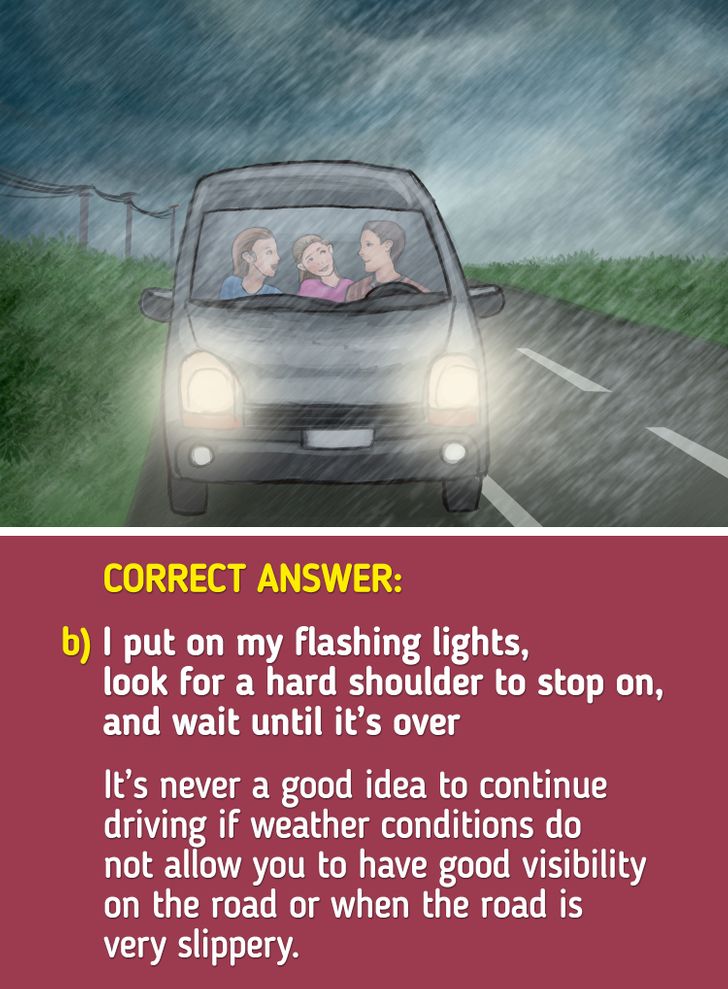 Experts say that if rain or hail is so heavy that you can't even see a few feet in front of you, the safest thing to do is find a proper parking spot where you can wait out the storm. If none of these are available, you can use a hard shoulder on the freeway, but try to never use a side lane next to a bridge.
How many of these situations could you face without a problem? Were there any answers you didn't get right? Do you think you're prepared to face the many types of accidents that could happen?