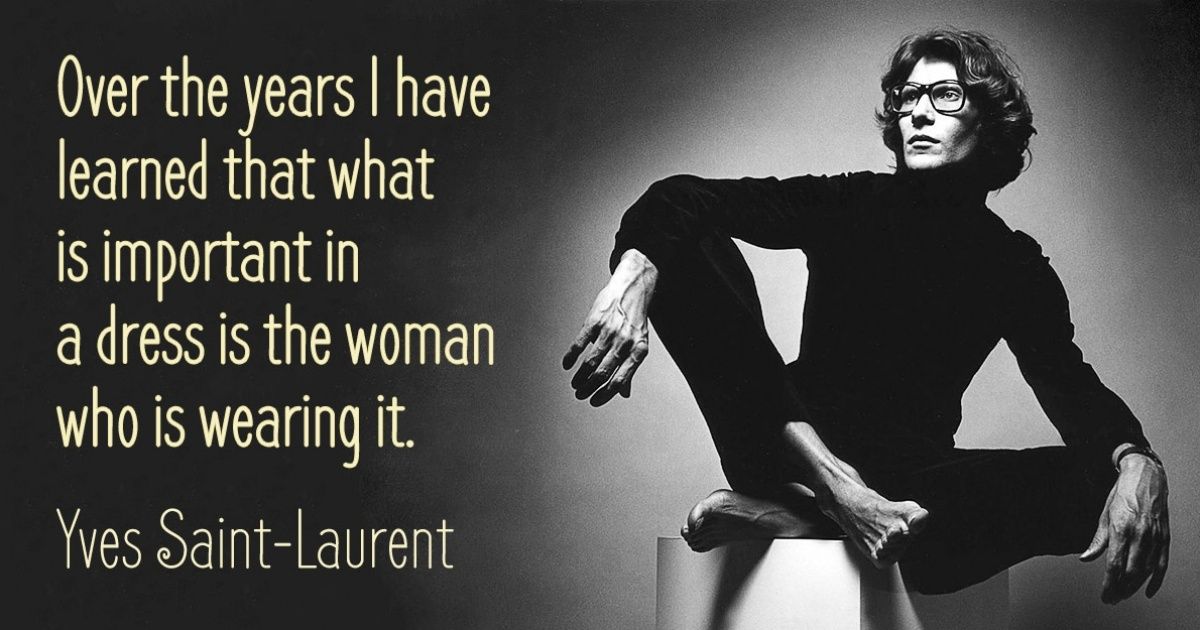 Eight brilliant style tips from Yves Saint Laurent
Fashion anarchist and feminist Yves Saint Laurent dressed his muses in tuxedos, trousers, and see-through blouses. He invented the trapeze dress and 'safari' style; he brought turtlenecks and camouflage into vogue. His outfits made women feel more free and confident in themselves, helping many to realise that attractiveness does not just mean having a deep neckline and a narrow bodice.
We at Bright Side think that the following eight style tips from such a genius and real fashion expert could be of use to everyone who values their own appearance.
'In order to look beautiful, a woman needs a black sweater, a straight black skirt and a man to love her.'
Saint Laurent believed that the colour black is a triumph of elegance. The designer managed to turn black from a rarely-worn colour into one sported every day. Black remains a universal colour seen in all kinds of clothing today.
'Even the most refined attire needs at least a drop of perfume. It is this which adds a sense of perfection, and gives a certain amount of charm and allure.'
Saint Laurent wasn't a fan of large jewellery. His favourite kind of accessory was a pair of glasses with a wide black rim. He recommended completing one's outfit simply with a pair of sunglasses and he truly believed that an exquisite and suitable perfume helps emphasise one's style much better than huge pieces of jewellery.
'I have often said that I wish I had invented jeans.'
Saint Laurent utterly adored jeans. 'They have expression, modesty, sex appeal, simplicity — all that I hope for in my clothes', he said. Don't be afraid to wear the most suitable jeans for you as everyday clothing — nothing more universally appealing has ever been invented.
'Women's trousers are supposed to be feminine, they should fit her shape to either hide or emphasise what needs to be.'
Yves Saint Laurent was one of the first designers who made many items normally reserved for a male wardrobe available to women. He spent several years of his life trying to prove to the world that a woman in trousers is beautiful — but only in those which fit her shape perfectly. The designer suggested combining trouser suits with delicate silk blouses, which in his view allow women to emphasise their femininity.
'Fashion comes and goes, but style is eternal.'
'It pains me physically to see a woman victimised and rendered pathetic by fashion', the famous couturier once said. Everyday life is not the same as a fashion show. An individual's style is supposed to take into consideration personal characteristics; it highlights all the strengths and hides the imperfections of a person and doesn't blindly follow fashion trends.
'A really stunning dress is elegant only when it can't be worn twice.'
Saint Laurent advised people to not spare money on an outfit if they are going to a really special event. Feeling comfortable and looking your very best was one of his golden rules.
'A woman's most beautiful make-up is her passion. But cosmetics are easier to buy.'
One of Yves Saint Laurent's most famous statements was the following: 'The most beautiful clothes that a woman can wear are the arms of the man she loves. But for those who haven't had the fortune of finding this happiness yet, I am here.' The designer insisted that it is pointless to look for happiness in that form of love which is fleeting and conflictual. A properly selected wardrobe and personal care, in his opinion, where the two things which could lead to true, long-lasting love.
'Over the years I have learned that what is important in a dress is the woman who is wearing it.'
A fan of art in all its forms, a man who united French fashion and world cinema, Saint Laurent believed that it's important not just to wear clothes but to be an
individual, to aim for perfection. 'Clothes must be subordinated to the personality of a woman, and not vice versa.'