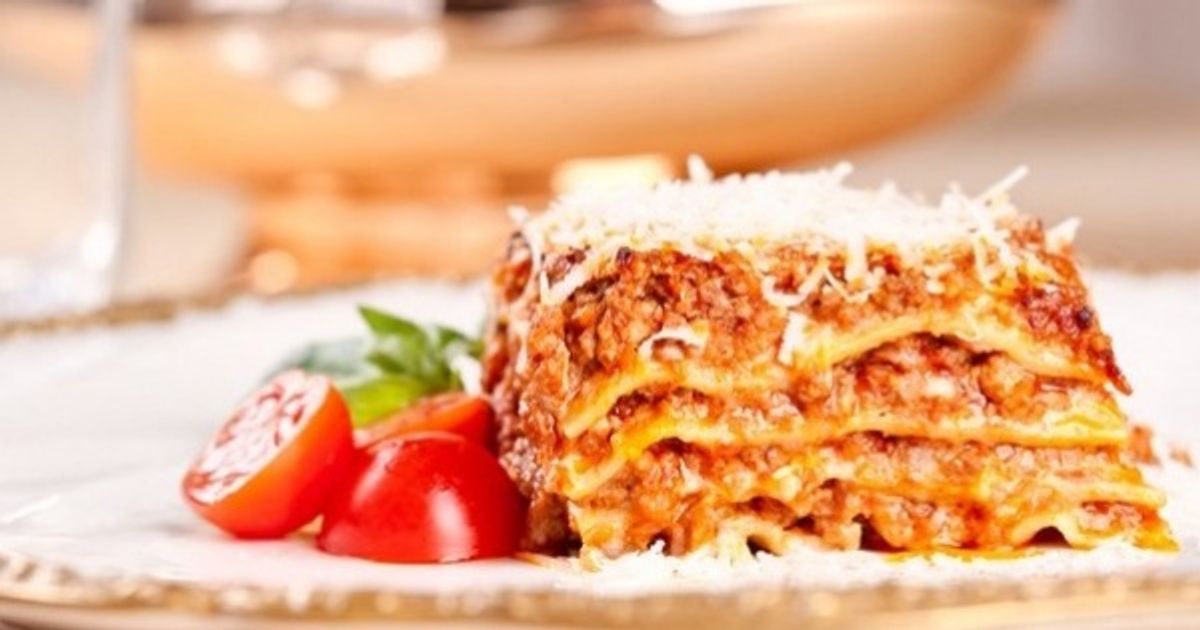 7 great lasagna recipes that are ideal for winter
Lasagna is the perfect dish for lunch or dinner during the cold season — it's hearty, tasty and very satisfying. For preparation, you need quite a bit of time and ingredients.
Bright Side wants to share unique recipes for the most delicious lasagnas, which are not difficult to cook at home.

Potato Lasagna
3 large potatoes
3-4 tablespoons of olive oil
a pinch of salt
a pinch of black pepper
1/3 cup lemon juice
12 oz (340 g) tofu
basil leaves
1 tablespoon of dried oregano
Parmesan cheese

For the sauce (if you'd like to make your own):
1/2 cup olive oil
chopped basil
2 cloves garlic
a pinch of salt
a pinch of black pepper
water
0.7 oz (20 g) Parmesan cheese.
1. Preheat the oven to 375°F (190°C).
2. To make ricotta, mix the tofu, olive oil, salt, pepper, lemon juice, basil and oregano in a blender. You should get a smooth consistency with pieces of basil.
3. Peel the potatoes and cut them into thin circles.
4. Take a deep rectangular dish and lay out the potatoes in one layer.
5. Layer the potatoes and place the ricotta on top. Spread evenly.
6. Spread a second layer of potatoes, then add more ricotta. On top, add a third layer of potatoes and pour on the ricotta. Finally, finish with a top layer of potatoes.
7. Cover the dish with foil and bake for 50 minutes.
8. Then remove foil and bake for another 10 minutes.
9. While preparing the lasagna, mixed the ingredients for the sauce in a blender: olive oil, basil and two cloves of garlic. Then add the cheese, salt, pepper and mix them in the blender again. Add a little water.
10. Take the lasagna from the oven and let the dish cool a little.
12. Enjoy a delicious lasagna.
Cheese Lasagna
1 pound (500 g) Farmer's cheese
10.6 oz (300 g) hard cheese
2 eggs
1.4-1.8 oz (40-50 g) butter
dry lasagna sheets
1/2 teaspoon of salt
2. In a glass, pour the water and add a spoonful of salt.
3. Add 2 eggs to the Farmer's cheese and stir.
4. Add 5 tablespoons of salted water to the cottage cheese.
5. Add the softened butter.
7. Take a baking dish and place in the bottom, a sheet of foil covering all sides. Grease the foil with oil.
8. Then add the sheets of lasagna as a base.
9. Spread 1/4 of cheese mixture on the lasagna sheets. Cover every layer (1/4 of mixture).
10. On top, in different places, sprinkle 3 tablespoons of salted water.
11. Continue layering the pasta sheets. On top, spread the Farmer's cheese and add grated cheese. Also, adding the 3 tablespoons of salted water.
12. Add this to all 4 layers of lasagna so that the last layer has become cheese. Cover the dish in foil.
13. Bake in a well preheated oven for 30 minutes until cheese browns.
Pita Lasagna with cheese and fish
thin pita bread
6.3 oz (180 g) salmon fillet
11.3 oz (320 g) Farmer's cheese
2 eggs
10.6 oz (300 g) yogurt
fresh dill
spice
1. Mix together the egg and yogurt.
2. Cut sheets of pita bread and cover them with the previously made sauce and layer them. Let the pita bread soak for 10 minutes before baking.
3. Rub the cottage cheese through a sieve or grind in a blender. Add 1 egg for a thicker consistency.
4. Clean the fish from the bones and salt it. Leave in the refrigerator for 15 minutes, then wash off the salted fish and cut it into small cubes.
5. Mix Farmer's cheese and fish. Add the fennel, stirring the ingredients with a spoon.
6. Spread over the pita. Cover the top layer with the egg and yogurt mixture.
7. Bake lasagna for 10 minutes.
Lasagna with chicken and mushrooms
1 chicken breast
vegetable oil (for frying)
1 pound (0.5 kilo) mushrooms (fresh or pickled)
6.8 oz (200 ml) cream
hard cheese
sheets of lasagna pasta
1. Remove breast bone, separate the meat, and fry it with oil.
2. Slice the mushrooms and add to the meat. Fry for 10 minutes.
3. Pour the cream in and let it simmer, covered for about 7 minutes.
5. Choose a pan for lasagna and put a sheet of foil down. Grease with butter.
6. Layer pasta sheets for lasagna. Then spread the filling (chicken and mushroom).
Sprinkle with grated cheese.
7. Make 4 layers, so that the last layer has become cheese.
Lasagna in a frying pan
1 pounds (800 g) tomatoes in their own juice
1 tablespoon of olive oil
1 onion
salt
3 cloves garlic
red pepper flakes (on the tip of a knife)
1 pound (450 g) minced meat
10 lasagna sheets
1/2 pound (220 g) tomato sauce
grated Parmesan cheese
2 tablespoons of basil
1/2 pound (220 g) cheese (ricotta).
1. Mince the onion and garlic. Finely cut the basil, and break the pasta sheets in halves.
2. Finely cut the tomatoes and put them in a bowl. Dilute with water.
3. Fry the onion until soft in a large frying pan. Add the garlic and red pepper.
4. Place meat in the pan. When it is cooked, add top halves of pasta sheets for lasagna, but
5. Add and spread the chopped tomatoes and tomato sauce. Do not stir.
6. Cover with a lid and simmer for 20 minutes over low heat.
7. Turn off the heat and add the first half of the Parmesan and then the ricotta. Do not stir.
8. At the end of cooking, remove the lid, sprinkle the second half of the Parmesan and chopped basil and serve.
Bolognese Lasagna
ready lasagna sheets — 1 package (500 g or 1 pound)
1/2 pound (200g) hard cheese
1 pound (500 g) minced meat (beef, pork or lamb)
2-3 tomatoes
2 tablespoons of tomato paste
salt, pepper, herbs (basil, oregano)
4 tablespoons olive oil
4 cups of milk
4.2 oz (120 g) butter
3 tablespoons of flour
a pinch of nutmeg, salt and black pepper
1. Cut the skin from the tomatoes and crush them in a blender. Add tomato paste.
2. Fry minced meat in olive oil. Add spices and tomato paste.
3. Simmer on low heat for about 5 minutes. Bolognese sauce is ready.
4. Fry flour in melted butter.
5. Slowly, with constant stirring, pour in the milk mixture.
6. Add the spices and, stirring constantly, simmer the sauce until thickened (10-15 minutes). Bechamel sauce is ready.
8. Grease a baking dish and pour the olive oil on the bottom and a little Bechamel and Bolognese sauce.
9. Spread the sauce on the lasagna sheets with a slight overlap.
10. Spread Bolognese sauce over them. Sprinkle with grated cheese and then Bechamel sauce.
11. Repeat this process 3-4 times, using however much of the ingredients you desire.
12. Cover the last layer of lasagna sheets with Bechamel sauce and Parmesan cheese.
13. Put a piece of butter on top and bake in the oven preheated to 390°F (200°C) for 30-40 minutes.
Fruit lasagna
2 lasagna sheets
10.6 oz (300 g) low-fat Farmer's cheese
1 orange
2 bananas
1 tablespoon of raisins
1 egg
1 tablespoon of semolina
1 brown sugar
ground cinnamon
frosting sugar
butter for greasing
1. Boil lasagna in lightly salted water until cooked thoroughly. Cut each sheet in half. Put the two halves into two small heat-resistant, pre-oiled pans.
2. Puree one banana with a fork. In a mixing bowl, mix Farmer's cheese, egg, raisins, mashed banana, semolina, sugar and cinnamon.
3. Cut the second banana into slices. Peel the orange, then cut into thin slices.
4. Divide Farmer's cheese in half. Cover the lasagna with the Farmer's cheese and place slices of orange and banana on top. Cover the second layer the same way. Lay out the remaining fruit on top.
5. Put the lasagna in the oven preheated to 355°F (180°C) for 10-15 minutes.
6. Gently remove the ready-made lasagna from the pan and let cool for about 10 minutes. Sprinkle with frosting sugar.