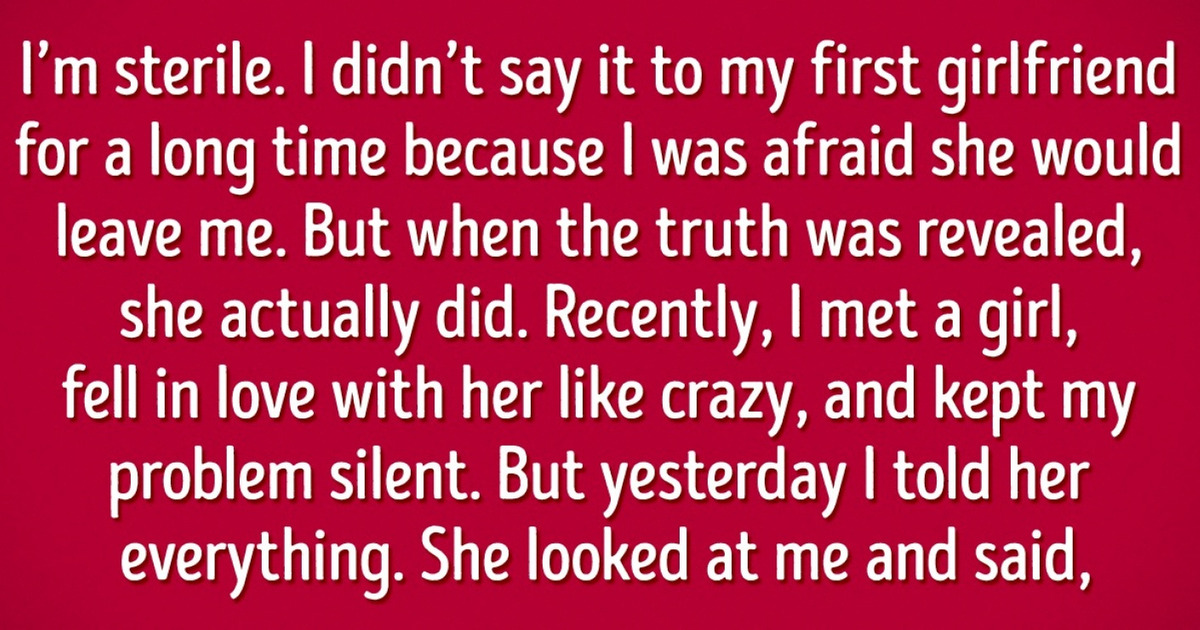 9 Short Stories About True Love
It's easy to love each other when difficulties never cross your path. However, in real life, all relationships are tested at one point or another.
Bright Side put together 9 stories of people whose love can pass any test.
Once, I caught sight of how women deserve to be loved. I carried an old lady's shopping bags up a staircase in an underpass. She thanked me and timidly asked me to help walk her to her house. She told me she was in a rush because her husband waited to meet her whenever she went outside. As we approached, I saw a nearly blind man walking with a cane outside of the lady's house. He came up to us and took his beloved's heavy bags from me. I immediately recalled how often I was too lazy to meet my girlfriend on the way home from the supermarket or from the train station.
I lost my leg when I was 19. I was dating a girl at that time and we were very much in love. After a while, she suddenly decided to move abroad, claiming that she wanted to earn some money for us. I wanted to believe her, but was convinced that she was lying. I told her we needed to break up and that it would be better for her. One month later, my doorbell rang. I took my crutches, opened the door and there she was. I didn't even manage to get a word out before she slapped me and I fell down. She kneeled down beside me, hugged me and said, "You're an idiot! I didn't run away from you. We're going to the hospital tomorrow and there's a prosthesis waiting for you. I went abroad to earn money so you'll be able to walk again - do you understand?" I was so overwhelmed with emotion that I couldn't utter a single word - I just hugged her tightly and cried.

My older sister got married. Her husband is a picky eater and is very hard to please when it comes to food. Every time he openly criticizes her cooking, I always recall my sister's ex-boyfriend. Whenever she cooked chicken liver, he always ate it and said he'd never tasted anything better. It later turned out that he was actually allergic to chicken liver - he just loved my sister very much.
After giving birth to our son, my wife's vision started to get worse. She was already wearing glasses, but it suddenly got really bad. I couldn't stand to see her suffering, so I took a second job and accepted some online work, as well. I worked day and night and couldn't get any proper sleep the whole year. Finally, I saved up enough money for corrective eye surgery. My wife recently returned from the hospital and she was amazed at how clearly she could see everything. The past year was tough on me, but I do not regret it one bit, because now I have a healthy son and a happy wife. They are the most important people in my life.

My mother was struggling with a heart problem and I lived with her for one week while my father was away on a business trip. He was due back yesterday and while we were sitting in the kitchen waiting for him, I noticed how beautiful she looked, despite being so thin and pale. There was a serene expression on her face, but her hands were shaking. Suddenly, we heard the lock turn and my mother jumped up and ran to my father, embraced him tearfully, and mumbled something into his shoulder. He hugged her in return and I just stood there, watching them and smiling. My father's love is my mother's greatest remedy.

I met a funny, kind, and educated young man on the internet. He was also very handsome. We used Skype to stay in touch for several years. After a while, I understood that I loved him and he said he loved me, but he was afraid to meet. I insisted on meeting and traveled thousands of miles to see him. It turned out that the young man was disabled and he couldn't walk. We spent 3 months together and we quickly got engaged. He is the best and he is perfect for me - my Professor X!
I'm sterile. I kept it from my first girlfriend for a long time because I was afraid that she would leave me. When I finally told her, she actually did leave. I was depressed for a year and my other relationships all led to nothing. About 6 months ago, I met a girl and fell madly in love, but I was afraid to tell her. Yesterday, I told her everything and she just looked at me and said that we could adopt in the future. I was so relieved that I started crying and I knew then that I wanted to marry her.

When I was 18, I was diagnosed with a small brain tumor. I thought it meant that I would die soon, so I told my boyfriend that I would understand if he left me. He just laughed and replied, "Yeah, right, when pigs fly!" Eventually, the tumor turned out to be benign. I am 21 now and we've been married for 2 years and we have a daughter. I will never forget his support during those difficult times.

I was dating a beautiful girl who lived a very privileged life. She was easy-going and funny, and I had enough money to satisfy her whims. I proposed to her and we got engaged. But a few weeks later, I was in an accident and was left partially paralyzed. The girl I thought was spoiled ended up taking care of me for several months and proved herself to be a loving woman and a faithful friend. She sold a lot of her things which I didn't think she'd be able to live without. She learned how to cook special meals for me. She wouldn't allow me to apologize for anything. And during the whole time, she didn't show a hint of doubt, disgust, or fear.
Do you or any of your friends have similar stories? Share them in the comments below!